Working from home? Here's a few things to keep in mind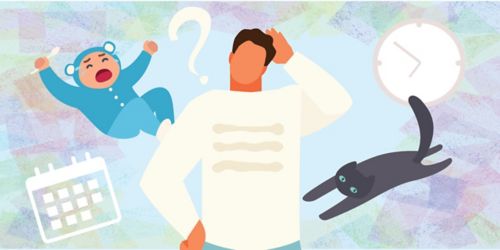 A fellow worker, one who usually works in an on-campus office, recently explained her current home-bound working status:
"I'm not working from home," she said. "I am at home during a crisis, trying to work."
In fact, more than half of the St. Jude campus is working remotely.
Working from home requires a well-prepared routine and a place to work without disruption. It also helps to have the technology to collaborate with other team members.
It takes time.
For many of us, we were at work one day and at home the next. We were issued computers and many platforms to log into with a schedule of digital meetings and deadlines. We went home, plugged in and muted the video function on our conference calls so we could collaborate in our pajamas.
This'll be fun.
Then come the reality checks. Using technology can be confusing. Some forget to unmute themselves when it's their time to talk, while another talks over someone else because of lag time. In some cases, kids are running and crashing into something in the background, or possibly complaining because they still must do their homework, even though school is closed. Cats and dogs require more attention because this is not business as usual for them, either.
Some have been writing the same sentence of a larger email for 30 minutes. Houses have never been cleaner because we have bounced between conference calls and folding laundry. E-mails get checked at 5 a.m., and some work well past their normal schedule to compensate for the new situation.
There is nothing well-prepared about this kind of working from home
"Although each person faces a different set of challenges," says Sherrie Lynn, lead organization development consultant with St. Jude Human Resources, "We all can answer the question, 'What works best for us?'"
We've been at it a few weeks … What have we learned? Let's revisit the basics of working from home — St. Jude communications has partnered with Francis Fairly of Project Management and Sherry Lynn, lead organization development consultant with St. Jude Human Resources, to outline how to get the most out of your time working from home.