When it's too close to home: empathy and creating a work-life balance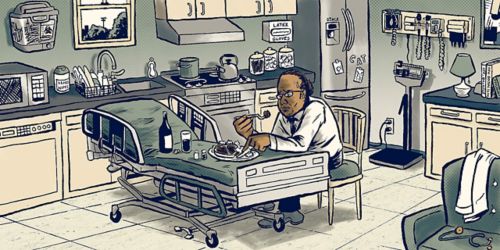 For many employees in health care organizations, it is difficult not to see their own families and children in the faces of those who seek medical care. Sometimes, these experiences can feel overwhelming.
At St. Jude, dedicated employees who strive to achieve the mission are often deeply affected by the work they do. On a daily basis, faculty and staff members are confronted with the struggles of patients and their families.
During a recent Schwartz Rounds®, employees who hold a range of positions shared their stories. Schwartz Rounds is a multidisciplinary forum where caregivers gather as a group to discuss difficult emotional and social issues that arise in caring for patients. What surfaced as each story unfolded was a sense of collective familiarity and empathy. The work at St. Jude affects employees deeply, and many of them take those feelings home.
The event also addressed employees' lives outside of the hospital. On occasion, health care workers bring their home lives into the workplace. It is important to recognize both sides, especially when personal issues can take a toll on mental health as an individual continually adapts to the professional environment.

Although it is common to think of caregivers who directly care for patients and support families, anyone can experience the weight of this work. Doctors must handle their own children after a day of caring for others. Accountants find themselves helping patient families with financial support as they struggle with their own financial issues. Support teams offer advice to patients and families based on their personal struggles with similar issues. Other staff members manage illness at both work and home. These are all situations that can create stress.
So how do hospital employees manage a work-life balance? This question does not have a one-size-fits-all answer, but there are many ways to address it.
Janet Sellers, the Resilience Center program manager, offered helpful advice to health care workers who may struggle with stressful days at the hospital, or who may have both home and workplace struggles.
"We have lives beyond the hospital, and it is often hard to separate the two," Sellers said. "We have good days and bad days. The work we do is hard, and there will be challenging moments. Reminding yourself to 'be present' helps."
Sellers also explained that peer support in the workplace helps normalize what we feel. The ability to share personal stories of guilt, fear, anger and shaken faith is a way to work through these emotions that can often be difficult to navigate.
"Family and patient interactions do impact you, and can go home with you. People see the faces of their own children in the children here," Sellers said.
But a kind of hopefulness exists when a hospital's foundation is based on hope itself.
"Working here can sometimes be sad, but employees come back because of hope and support. We work in an environment that values their employees the same as they value the families," Sellers said. "There are day-to-day highs and lows, but if we remind ourselves that what we do here is making a difference, we can work through those tough moments. What we learn is that we are all in this together."
Sellers explained that people who need support can take several approaches. Because there is no universal solution when it comes to work and home stress relief, it is up to the individual to determine what will be most beneficial.
"Most of the time, it is not about finding a solution as much as it is about emotional discovery," Sellers said. "It is important to recognize reactions and how to deal with them in a healthy way."
St. Jude offers a variety of options for employees who experience stress from home and in the workplace. Solutions start with the culture as a whole. A culture of empathy and understanding makes work-life balance more accessible. Employees are acutely aware that the two cannot always be separated, so St. Jude teams are incredibly supportive and encourage open dialogue. This level of institutional understanding is helpful to everyone and is an important first step.

There are also personal actions that can be taken. For some, going to bed early, getting out for a walk or taking some time to process the day may be enough. Even with time constraints, there are options. St. Jude provides a variety of activities onsite during work hours to help those who may benefit from the stress-relieving effects of exercise.
For St. Jude employees who may need more directed support, the Resilience Center serves as a centralized location of no-cost options ranging from occupational support to psychological services. The hospital's Resilience in Stressful Events (RISE) program is available for employees dealing with demanding patient-related events. A Spiritual Care Services team is also available for those who may need spiritual guidance. If an employee isn't sure where to start, the Resilience Center can offer suggestions.
The experiences of St. Jude employees are intensely human, and they can be detrimental if staff fail to address the emotions and stresses in healthy ways. Seminars and lectures, like the bi-monthly Schwartz Rounds, help staff maintain an open dialogue and remember why their work is important. 
"We are all working toward the same mission," Sellers said. "The challenge of the work affects us all—and we don't even know it is affecting us sometimes. What is important to know is that we don't have to be alone."