Life-changing experience helped forge Jurbergs' career in pediatric oncology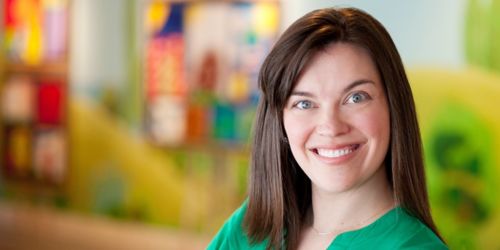 Niki Jurbergs, PhD, an associate faculty member in the Psychology Department at St. Jude Children's Research Hospital, shares how her health care career was shaped by an intense moment with a patient and family. This is part of an ongoing series.
What pivotal moment in your career shaped how you care for patients today?
I can't remember a time that I didn't know I was going to be a child psychologist. Throughout my training, I specialized in pediatrics and thought I would wind up in a primary care setting helping families address common mental health needs like addressing behavior problems and ADHD. It wasn't until my doctoral internship at the University of Miami Leonard Miller School of Medicine that the thought of working in pediatric oncology crossed my mind. The moment I met Dr. Jacqueline Jaffe, the psychologist with the Hematology/Oncology service at Holtz Children's Hospital, I knew I had to work with her. I fully expected to learn from and be challenged by Jacquie, but I had no idea that completing this rotation under her supervision would completely alter the course of my career. In effect, she changed my life.
Like many green trainees who had never "lost" a patient, I was terrified at the thought of my patient dying. When the dreaded call came — my patient was dying on the unit and his family was asking for me to come provide support — I didn't know what to expect. I had no faith that I would be able to hold it together, much less help them. But Jacquie prepared me. Although incredibly difficult and painful, I was able to join the family at bedside.
The experience was excruciating. I couldn't wait for my hematology/oncology rotation to end. I never wanted to watch a child take his last breaths or watch a mother's heartbreak again. But Jacquie helped me see the value of my presence and my relationship. She helped me make sense out of this senseless thing. Ultimately, she pointed me down a new career path. Several months later, I started my clinical fellowship at St. Jude. Fifteen years later, I've dedicated my career to supporting patients and families facing cancer, sickle cell disease, and other catastrophic diseases, thanks to Dr. Jaffe.
What advice would you give young professionals in your field?
I wish it hadn't taken me so many years to develop professional confidence. Looking back, I think I could have been so much more effective and productive earlier in my career if I had believed in myself a bit more.