Learning the connection between research and the people it helps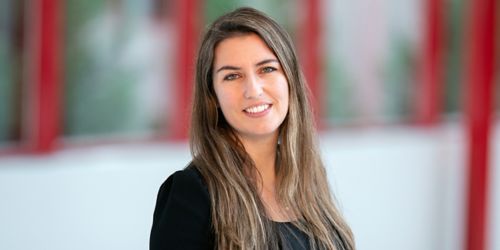 Regina Kolaitis, PhD, a project leader in the St. Jude Liaison Office, shares how receiving a research award connected her research and the people who benefit from it. This is part of an ongoing series.
Was there someone in your early career that showed you how to be an effective scientist?
Yasmine Valentin-Vega, PhD, is an exceptional scientist with high scientific integrity and ethics. Yasmine and I worked together for four years in the St. Jude lab of J. Paul Taylor, MD, PhD. She was a senior postdoc at the time. She was and is a fantastic research role model. She always seeks the truth in advancing her knowledge. I am still amazed by her critical thinking and the fact that she wasn't afraid to speak her science. She knew her pitfalls and always looked for ways to improve. She took a considerable risk to move out of the research lab to become the administrative director in the Office of Scientific Director, where she excels in her new role. She is extremely focused at work as well as a wonderful and loving mother of three.
Was there a time early in your career that highlighted the importance of your research?
While l was a research postdoctoral associate in the Taylor lab, I was awarded the Milton-Safenowitz Award for my research in amyotrophic lateral sclerosis (ALS), or Lou Gehrig's disease. Milton Safenowitz was diagnosed with ALS and died in 1998. His family established the award to give researchers a chance to better understand the disease, how it progresses and possibly gain therapeutic insights. During the award ceremony I had the chance to meet with the family of Milton Safenowitz. That connection showed me the importance of our work at St Jude.
What would you share with someone beginning their professional career?
I wish I had realized that there is no single career path. Things change, and we need to be able to adjust. All we need is to continue advancing our skills because nothing is the same as the day we graduated.