A blend of art and math inspires Hankins' science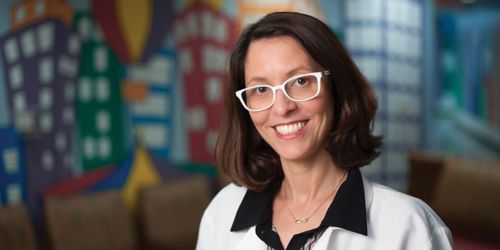 Jane Hankins, MD, MS, faculty member in the Hematology Department, describes how different periods in her life shaped who she has become as a physician and scientist. This is part of an ongoing series.
What about science and medicine inspires you?
I was in medical school and attended a professor's class in which he explained erythropoiesis and how when some disruption occurred in any of the blood cells' development steps, cancer would occur. This to me was at the same time mathematical and artistic. Then I went home and opened my textbook, and the intro of the book was an article titled "medicine as an art." I was fascinated by the crossroads of both disciplines and became inspired. Today I am a hematologist and continue to find art in all the science I do.
What can you attribute most to your professional journey?
I have been lucky to have people believe in me, teach and guide me. At each phase of my career, I have had a mentor or a mentor figure who has taken the time to teach, advise and calm me down. I would be remiss if I singled out one of them, as I owe them so much.
What might others misunderstand about you?
I should not let myself get influenced and should care less about what others say about me or how they react to the things I do or say. Growing confidence in who you are takes time (and gray hair!). For instance, I have always been a strong woman and one with opinions. Many times, I have been labeled as difficult. For a while, I thought they were correct, but with time I have grown to believe that I am not difficult, but I am a leader. A leader has strong opinions and speaks up. A lot of people (especially insecure ones) get confused about the difference between a truly difficult (obstructionist) person and a strong leader. I am the latter!