St. Jude and WHO collaborate to improve cancer cure rate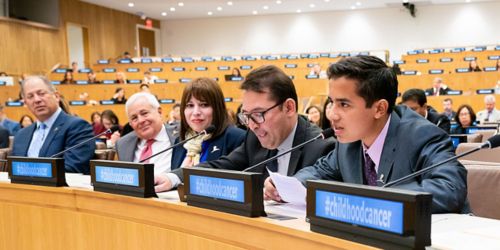 Gabriel (Gabo) Alessandro Mayorga Hernandez was 11 years old when he learned he had acute lymphoblastic leukemia.
A generation ago, the diagnosis was considered a death sentence in his native El Salvador. But when doctors in his hometown of San Salvador diagnosed Gabo in 2014, the outlook was much different, thanks to an existing partnership his doctors had with St. Jude Children's Research Hospital.
For the past 25 years, El Salvador has worked with St. Jude, along with government, health care and nonprofit leaders to help the country increase its pediatric cancer cure rate from 5 percent just 25 years ago to nearly 50 percent today.
"Cancer, leukemia and chemotherapies are unfamiliar words for a child," said Gabo, now 16. "Everyone thinks that cancer is an adult's disease. The saddest thing is that people associate the word cancer directly with death. However, that is not true, because I am here today standing before you."
An ambitious goal
Gabo, along with his family and medical team, traveled to New York to participate in the 73rd session of the United Nations General Assembly this past September to share his story of diagnosis, treatment and survivorship. He joined St. Jude, World Health Organization and other global partners in an event that outlined an ambitious collaboration to improve childhood cancer care and decrease global survival disparities.
The UN General Assembly event provided a prominent stage for the announcement. St. Jude and World Health Organization outlined a five-year collaboration, along with other key global stakeholders. Cure rates for six of the most common types of childhood cancers often exceed 80 percent in high-income countries, while survival rates are estimated at only 20 percent in low- and middle-income countries.
This new effort aims to cure at least 60 percent of those children.
James Downing, MD, St. Jude president and CEO, outlined the urgency and broad impact of the collaboration to the UN assembly.
"Increasing the cure rate to 60 percent by 2030 is a goal we can reach," said Downing. "It will raise the standard of care in hospitals around the world, not just for cancer care. Every child, no matter the illness or disease, their care will be improved by this effort."
One strategy is global access, Her Royal Highness Princess Ghida Talal of Jordan said.
"This is where WHO and St. Jude step in," she said. "As the world's leading health authority, the global reach of WHO is unmatched. And for over half a century, St. Jude has led the charge for pediatric cancer care globally. I have witnessed it first-hand in my country .… I'm confident with this partnership we can deal a fatal blow to childhood cancer everywhere. Millions of children around the world are depending on us to do so."
Gabo echoed that sentiment in his remarks before the gathered global dignitaries. He spoke as an example of what is possible with a global collaboration while expressing a desire to see other children in low- and middle-income countries have the same bright future.
"My childhood hopes are still the same, but now I have a dream: that all the children in the world who fight against cancer have the opportunity of access to diagnosis and treatment as I did," said Gabo.