When virtual learning with your children, remember your ABCs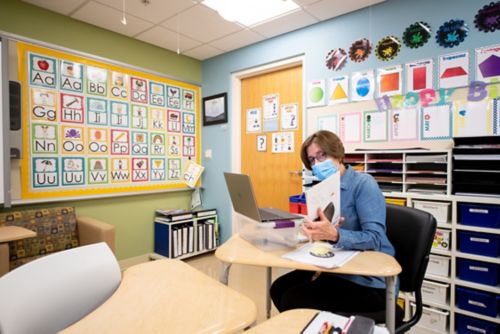 These are unusual times in education. Students, parents, teachers and administrators are adapting to a non-typical school year – virtual learning is in session.
At St. Jude, we've also adapted. The St. Jude School Program has adopted one-on-one telehealth sessions with patients, incorporated virtual hands-on activities such as science projects, produced summer-camp videos, and renovated our classrooms to meet safe-distancing measures.
We were fortunate to use telehealth resources so that our students didn't miss a beat. This new technology is here to stay for our students as another resource after the pandemic ends.
Our patients are used to learning in unconventional ways. Their school years are often disrupted due to illness, treatment and time away from home. Their experiences mirror what many families are experiencing now due to the pandemic: abrupt changes in plans, uncertainty about the future and isolation from friends and family.
I tell all parents that we can learn from the experiences of St. Jude patients. This school year looks different in many ways—kids are learning remotely. Some students are splitting time between school and virtual learning. Others are going to school full time with smaller class sizes. But with some practical approaches, we can still ensure our kids are engaged and learning. Here are some reminders as you continue virtual learning with your children.
The ABCs of virtual learning
A is for Advice
Be patient, but proactive. School systems are still figuring out virtual learning. There will be some trial and error. A virtual environment makes it harder for teachers to give individualized attention, but learning is still the goal. These suggestions below are ways you can help ensure your child stays on track.
B is for Being part of the experience
Be a partner in your kids' educational activities. If they are learning by telehealth or virtually, check in with them and let them show you what they are doing. In my current role and during two decades as a middle school math teacher and principal in the Memphis and Shelby County School systems, I would tell parents, "Let them teach you. Act like you don't know how to solve that math problem."
C is for Consistency
When patients first come to St. Jude, it is important for them to have something familiar in their lives. School creates a sense of normalcy. Keeping a routine is important. Help your child make a daily schedule. This includes waking up at the same time, logging into school on time and allowing for physical activity and meal breaks.
D is for a Designated spot
Your child should have a designated spot in the house for school. This quiet place should be free of distractions and electronic devices. Supplies and assignments should be nearby. Let them be accountable by ensuring that they charge their own devices so that they are ready to learn.
E is for Expectations
This tip comes from Sarah Klein, an academic coordinator in our School Program. "Write down your expectations," Klein says. "It's more important now more than ever that everyone is on the same page. Establish a plan and track the amount of work that needs to be done in class on the computer and after they have logged off."
F is for Field trips
Remember how much fun you had taking field trips in school? You can relive that with a family outing. Plan a nature walk and describe the plants, insects and wildlife you see. Hike through the forest or log on for a virtual field trip. Check out the School Program webpage for more online educational resources such as zoo and museum tours.
Setting the tone
As a parent, you set the tone for how this year goes. There will be frustrations and setbacks. But our kids are watching how we respond to the challenge this pandemic has placed on our lives and our educational systems.
Remember the importance of patience and participation during the next several months. A positive attitude is just as important as calculators and crayons.