No challenge too big: St. Jude helps employees stay connected, get moving through virtual fitness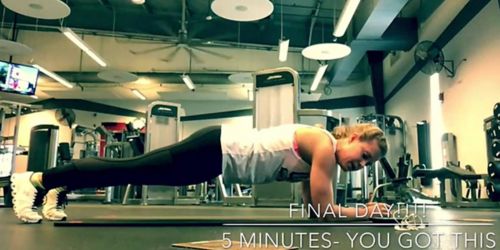 When most of the hospital's nearly 5,000 employees began working from home in March due to the COVID-19 pandemic, our Living Well Program team began to brainstorm.

How could we help employees meet their fitness goals?
How could we foster a sense of connection?
What would be the best platform to reach our colleagues?
Those questions converged in early April when an eager workforce leaped at a fun challenge on a new internal communications tool. The timing was perfect. The results have been amazing.
To plank or not to plank

Our Living Well Program promotes healthy lifestyles for employees by focusing on five core areas: getting active, eating healthy, preventing illness and injury, balancing work and family, and coping with stress.
In tandem with St. Jude Human Resources, we do this through a variety of classes, programs and resources. Much of this is done on campus. Since our workforce found themselves at home with uncertain schedules and new routines, we thought a fun physical challenge was a great way to engage our employees initially.
The answer was a 30-day plank challenge.
Planks were a great starting point because they build shoulder and core strength. You also work secondary and third muscle groups with your legs, but it was important to focus on core strength first. That's the foundation.
Regardless of fitness level, anyone could participate through modifications—whether it was a traditional plank on forearms or hands or modified versions on knees or upright on the wall.
Day 1 began April 2 with a quick 30-second plank. We increased the timing incrementally each day until we reached a body-trembling, 5-minute plank on May 1. Participants could do their planks in any combination to meet their individual goals. On Day 3, when I introduced the wall modification, I received several private messages from employees that said, "OK, I can do this now. I can participate."
A timely connection
In late March, St. Jude Human Resources teamed with the Information Services department and hospital leadership to launch the Yammer internal communications platform for employees. The new tool was a perfect home for the plank challenge as well as several half-hour fitness sessions targeting specific muscle groups.
Each day a new video popped up on the Living Well team page on the platform. Employees received notification reminders. I'd post a video of myself doing the plank challenge from either my home or on the hospital campus. My Living Well colleagues, Wednesdee Canale, Sheila Harrell and Candice Wheat, also led sessions from their homes throughout the monthlong challenge.
Planks are just as much about mental fortitude as they are physical capability. I encouraged participants to find ways to take their minds off their shaking arms. My preferred method is music. If you're attempting a four-minute plank, find a four-minute song to help the time fly by.
It wasn't long before the likes and comments poured in. Our colleagues shared their struggles and success stories. They posted photos and videos. We were building a virtual fitness community.
A fitness community
It's been encouraging to see the positive feedback. We're living in a difficult time, so it's nice to be able to make a difference.
Elizabeth Whittington, of St. Jude Communications, averaged about 7,000 steps walking around the hospital campus to various meetings each day. While working from home, she's trying to find new ways to stay active. She started with a 1-minute plank and graduated with a 5-minute effort using a combination of modifications. Whittington also posted a time-lapse video of her completing all the various planks.
"The daily reminders and group encouragement on Yammer have been the No. 1 factor for me finishing the challenge," Whittington said.
Kirt Woodruff, of St. Jude Human Resources, is training for the St. Jude Memphis Marathon. He's been working with the Living Well team on cross-training workouts as well as other activities. His longest-held plank before this challenge was slightly over a minute. He's now working on completing the entire five minutes without modifications.
"The wellness programs have had a significant impact on my time at St. Jude so far," Woodruff said. "Not only does it bring value to me at work, but it also adds value to my life outside of work."
Kristen Ryan, of St. Jude Hematology, frequently participates in Living Well activities. She joined the plank challenge to connect with employees and to challenge herself. The time away from her computer workstation was therapeutic and helped her to refocus.
"I love that St. Jude offers so many different options for our mental and physical health," Ryan said. "The Living Well team has done a great job keeping me engaged while we are apart."
On the horizon
This experience has opened doors of opportunity for us to reach employees. We are already thinking of other ways to incorporate virtual or digital workouts into our program. We are currently in the middle of our latest effort—a 20-day pushup challenge. It's also been a strong success.
Throughout May, we have shifted our focus a bit. Since May is Mental Health Awareness Month, we've adjusted to a focus on our staff members' emotional well-being. We are emphasizing good mental health and what exactly does that look like. The breathing, the meditation, the exercise and all our resources are all part of that.
We're going to be bringing new ideas to the table every month, and virtual Living Well is here to stay. Our job is to make sure that employees are at their best. Being your best to support our wonderful St. Jude mission is a combination of physical, mental and emotional health. That's what we're here to do.