St. Jude families provide valuable insights to staff through virtual adviser community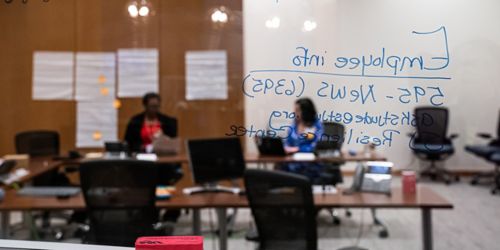 No one knows the St. Jude journey better than the parent of a patient.

Families whose worlds were shaken. Resilient caregivers who've spent countless hours in waiting rooms, walking the hospital's halls, eating in the cafeteria and talking with staff members.
This unique view is the catalyst behind the hospital's online virtual adviser community, St. Jude Voice, which is celebrating its first anniversary during Patient Family-Centered Care (PFCC) Awareness Month.
Family, Guest and Volunteer Services launched the platform in October 2019 to capture the views and thoughts of a wider range of parents and families.
Parents helped create St. Jude Voice, which includes two communities—Family Voice for active patients and alumni and Legacy Voice for bereaved families. Family Voice focuses on activities and experiences. It's the primary place for staff to gather feedback and test ideas. Legacy Voice also contributes their experiences while also offering a community of support to fellow bereaved caregivers.
PFCC staff work with employees to write surveys, host forums and develop other content for St. Jude Voice. Each project can target a specific audience by treatment experience or patient demographics. The PFCC team compiles the results and shares reports with departments.
Clinical psychologist Kendra Parris, PhD, used St. Jude Voice to gauge how her department was incorporating patient family-centered care into their work. Based on surveys, the Psychology Department created a video describing their role for families. The department's staff members are also sharing more information about the reasoning behind their common practices.
"I have been so appreciative of the feedback I have received from St. Jude Voice," Parris said. "Our parents and caregivers are the ones living this experience day to day. Their feedback is valuable."
St. Jude Voice has more than 700 advisers who gave 5,000 responses in the past year. Twenty St. Jude departments and programs used the platform to create 70 surveys.
"The St. Jude Voice virtual communities have far exceeded our expectations. These insights have allowed staff and parents to co-design programs and initiatives, further engaging volunteer parent advisers at the committee level when needed," said Kathryn Berry Carter, director of Family, Guest and Volunteer Services.
Employees in the hospital's Patient Experience Office have several ways to capture patient and family feedback, but St. Jude Voice has enhanced their efforts.
"We can spend hours in meetings thinking of improvement efforts, or we can ask families for input and feedback into how we might serve them better," said Diane McGarry, administrative director of Patient Experience. "The greatest voice in patient experience is that of the patient and family. St. Jude Voice helps magnify that voice."
Legacy Voice members shared thoughts that led to new grief resources and peer support for bereaved families. The community includes resources such as books, podcasts and website links.
Social worker Traci Adams often works with bereaved parents who use Legacy Voice. She says she's awestruck by the courage parents show in words.
"Spoken words are powerful, but the written form can be equally as powerful, especially when those words resonate with another grieving parent," Adams said.
In the next year, PFCC staff plan to involve more clinicians, encourage more departments to share their results with St. Jude Voice members, increase the diversity of membership and share more content created by parents.
A central landing zone called the Hub is the place for staff members to post news and events. A steering council of staff and families reviews requests.
"It has been an honor helping to create and facilitate this virtual platform where we engage our patient families in hospital conversations," said Hannah Crain of Family, Guest and Volunteer Services. Crain coordinates the hospital's virtual advisory communities. "We look forward to a future of partnering with more hospital staff as we find creative ways to use this virtual platform."