Two Years of the Pediatric Translational Neuroscience Initiative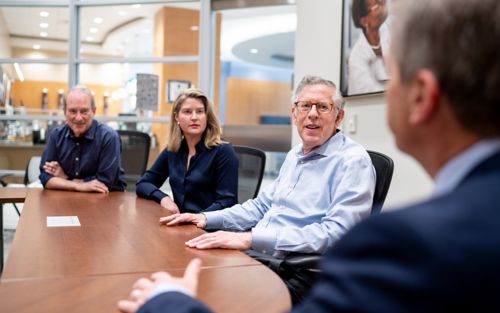 One in 6 children worldwide has a neurological disease. To address that need, St. Jude began the Pediatric Translational Neuroscience Initiative (PTNI), a research program to find treatments for catastrophic pediatric neurological diseases. The initiative provides support for both basic and clinical research—areas married through collaborations among external stakeholders such as scientists, physicians, industry and disease advocacy organizations. The program was designed to leverage the scientific strength and experimental therapeutic expertise at St. Jude to alter the landscape of pediatric neurological disease.
Director J. Paul Taylor MD, PhD, heads the initiative while also serving as the St. Jude scientific director. Two years into the effort, Taylor and his colleagues have gotten the effort off the ground and have launched several open clinical trials with others on the way.
"For a long time, there's been an unmet need for treatment for kids who have catastrophic neurological diseases," Taylor said. "A new opportunity in treatment for these children has arisen, and it's come very quickly. The opportunity right now is outstripping the capacity of the larger neurological research community to deliver new possible therapies to the kids who need them."
"That formed a tipping point where translating treatment for catastrophic neurological disorders into clinical interventions became something really urgent to add to the St. Jude portfolio."
Collaborating to cure pediatric neurological disorders
Classically, when St. Jude labs develop potential candidate drugs or other clinical interventions for a catastrophic pediatric disease, a pharmaceutical or biotechnology company then needs to be engaged to advance the project further toward clinical use. This paradigm has worked well for pediatric cancer. The rare nature of neurological disorders makes this model less efficient. Instead, it is more efficient to consult partners in biotechnology, pharmaceuticals, patient advocacy groups and policymakers early in the process, on a project-by-project basis, based on the needs of each distinct patient group. This paradigm holds true for rare forms of cancer and other disorders treated at St. Jude, which will also benefit from developing this type of rare disease program.
"Every project is likely to involve multiple stakeholders inside and outside of St. Jude. It's a different model. We're not going to do everything in house," Taylor said.
To coordinate with external stakeholders, the initiative's Office of Strategy and Alliances (OSA) connects the program with advocacy organizations, researchers and clinicians from other institutions, biotechnology or pharmaceutical companies and policymakers. The goal is to proactively engage external partners to understand and address their needs, as well as educate them about the capabilities of the initiative.
Kristin Stephenson, JD, joined St. Jude as the director of OSA in 2021. Her previous role in advocacy serves as a guide in how to work effectively with similar partners and anticipate their needs. She understands how families are motivated to find cures for their children, and she appreciates that patient organizations can have an important role in helping drive research.
"This is a model that is paying off tremendously," Taylor said. "Kristin only formally organized this office 14 months ago, and it's already paying huge dividends; in fact, I think it's a model that we can scale for the rest of the institution."
"The OSA, in close coordination with the St. Jude internal legal and technology transfer team, is putting processes in place and developing structured agreements to formalize external alliances, making it easier and faster to get collaborative research programs up and running.
"We're going to find the most efficient team to take ownership of any given clinical and/or fundamental research task," Taylor said. "The goal is to distribute tasks to whichever organization is the most capable and can do them the fastest, to meet the urgent needs of our pediatric patients with catastrophic neurological disorders."
Internally, PTNI has created the "Center Without Walls," designed to improve collaborations within St. Jude that focus on neurological disorders. The effort was modelled after the St. Jude Cancer Center. The center has begun promotional efforts to attract and educate St. Jude faculty to the benefits of working with the initiative.
Center Without Walls members will have access to initiative resources that support translational neuroscience research. For example, the center makes grant funds available to support pilot projects that may evolve into mature, ongoing neuroscience research projects. Postdoctoral fellowships are available to support initiative-related research in labs across St. Jude.
Moving neurological disease treatments to the clinic
Many pediatric neurological diseases are driven by a single gene mutation, revealed by recent advances in sequencing and bioinformatics. Initiative researchers at St. Jude are attempting to understand how these mutations lead to disease, to inform clinical interventions. The Center for Experimental Neurotherapeutics is the portion of the initiative dedicated to realizing the clinical ambitions of the program. Richard Finkel, MD, is the center director, and an expert in pediatric neuromuscular disorders, with a particular focus on spinal muscular atrophy (SMA).
The center enrolled its first patient in a clinical trial last year, marking a program milestone. The child joined a study for patients with SMA. Untreated, SMA can be fatal for children before their second birthday, indicating a dire need for progress in treating this disease.
The center now has multiple open, ongoing clinical interventional and observational trials, with more in the planning stage. In addition to SMA, these trials plan to include interventions for Friedreich's ataxia and Duchenne muscular dystrophy and to move forward into other monogenic neurological diseases.
Learning the fundamentals of pediatric neurological disease
The basic research enterprise of the initiative, the Center for Pediatric Neurological Disease Research, now includes three faculty investigators:
Peter McKinnon, PhD, is the center director. His lab studies how DNA damage, or the failure of DNA damage repair mechanisms, leads to neurological conditions.
Andrew Kodani, PhD, studies how genetic alterations can lead to changes at the cellular and gross anatomical level, especially in the central nervous system.
Heather Mefford, MD, PhD, a physician scientist, pursues the connection between genetic defects and epilepsy or epilepsy-related disorders.
The Center for Pediatric Neurological Disease Research is actively recruiting faculty, core resource staff scientists and postdoctoral fellows. As an example, the center recently recruited Alfonso Lavado, PhD, as the director for core resources in cell and molecular biology, microscopy and histology. Lavado is an expert in developing analytical tools for neuronal and glia cells. He has an impressive track record of developing novel neuro-histology approaches and brain sample processing methods.
Where neurological disease research is headed
The St. Jude initiative has established its vision and foundations. The program is poised for rapid growth:
The Center Without Walls will officially launch in the fall of 2022. St. Jude is recruiting a project manager to help administer the program.
Within the Center for Experimental Neurotherapeutics, multiple clinical and observational trials are ongoing. Clinical faculty and staff recruitment continues to accelerate.
The Office of Strategy and Alliances is hosting multiple meetings this fall with potential allies. Participants include advocacy groups, Food and Drug Administration, National Institutes of Health, biotechnology, pharmaceutical companies, scientists and physicians to prioritize goals and discuss issues unique to pediatric neurological disorders. The office is also expanding its staff.
The initiative is also developing a precision medicine program. The goal is to create a model of clinical precision medicine within pediatric neurological disease that can serve as a model for other St. Jude programs. This program has yet to be implemented, but Taylor is focused on developing it in the near future. The platform is designed to serve the broader St. Jude community of patients with ultra-rare diseases.
Each portion of the program is now in a growth mode, reflecting the transition from establishment to expansion.
"We're in the relatively early days of the initiative," Taylor said. "Nevertheless, a lot is happening. We are now actively expanding the St. Jude mission to include this population of pediatric patients with a large, unmet treatment need."