'Black hole' of cancer journey? Transition oncology program fills the gap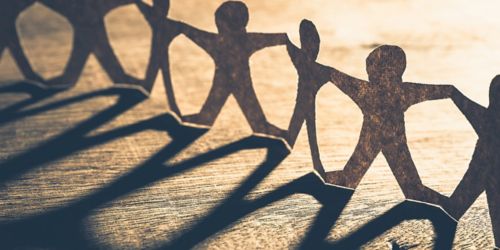 Transition from cancer treatment to everyday life isn't as easy as it seems, for parents or pediatric patients.
Like career, marriage, family and other major life events, going from cancer treatment to everyday life, while exciting, can cause stress and anxiety.
A new St. Jude program fills this gap in psychosocial support. The Transition Oncology Program helps survivors get life sorted out when they're possibly the most vulnerable, in between hospital care and After Completion of Therapy checkups. Emily Browne, DNP, is the program's director.
Will my child adjust to school? Does this bruise mean the return of cancer? What late effects should we expect? How do we cope with less frequent checkups? Will the pediatrician know how to care for survivors of pediatric cancer? Will I bother the clinic if I call with a question?
"These are just a few of the questions our patients and families ask themselves on a daily basis," Browne said. "We provide exceptional care at St. Jude, and we owe it to our patients to provide an extra layer of support for them during this time of transition and early survivorship."
A team of nurse practitioners, psychologists, rehabilitation and education specialists, and social workers assist with everyday support for patients, assistance for school and communicating with the patient's local pediatrician. The program also enhances communication with each patient's home medical team. TOP sends a summary of the child's oncology treatment plan to the primary care provider and any specialists the patient may be actively seeing in the local community.
Facilitating the transition back to the home and a patient's primary care providers offers a little peace of mind for many.
"That's what TOP can provide," Browne said. "That's what St. Jude patients and families have asked for."
This extra layer of support is customized for each patient and their family, who undergo a comprehensive assessment.
A big challenge
Neuropsychologist Andrew Molnar, PhD, formerly of St. Jude Psychology, submitted an idea for a transition oncology program during the hospital's Big Idea Challenge in 2017. The program launched in late 2018.
"Think of the primary oncology teams as the active cancer specialists," Browne said. "Think of the ACT team as the long-term survivor specialists, and then you can think about the TOP team as being specialists for that in-between time of transition and uncertainty."
Cancer survivors visit the ACT clinic at St. Jude for yearly checkups at least two years after treatment and five years from diagnosis. In the clinic, survivors' health is closely monitored until they turn 18, or until 10 years after their last cancer treatment, whichever comes later.
St. Jude social worker Kimberly Volner has provided transition services to cancer survivors and their families for six years. Volner remembers the time before these transition services.
"After the end of treatment, before patients went to ACT," Volner said, "there was just a black hole in regard to regularly scheduled psychosocial support for patients and families."
Now, Volner and other members of the TOP team ensure continuity of care between the end of treatment and ACT Clinic. In 2016, social worker Meg Canady was asked to extend transition services to the Neuro-oncology Clinic.
"It's gratifying," Canady said, "when a patient comes back at a follow-up visit and says, 'I can manage school much better after getting these accommodations in place.' "
TOP caters to the myriad issues specific to each patient.
"You have to be flexible and willing to make a lot of changes," Browne said. "It's a bit ironic that the transition team is continually experiencing a lot of transitions."