Bringing Chemistry to Medicine: Experts in transcription therapy and chemical biology share research though St. Jude symposia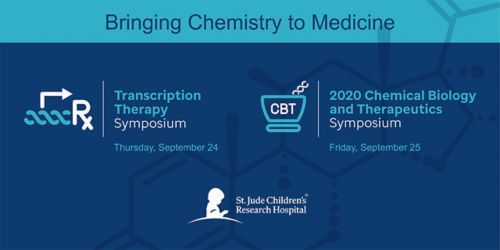 Despite their role in numerous diseases, including most cancers, transcription factors like p53 and myc have been considered "undruggable." However, recent advances in our understanding of how genes are regulated have opened up new opportunities for targeted chemical intervention, which could have broad impact across different branches of biomedical research. Novel chemical approaches are integral to the exploration of new therapeutics to target and treat cancer and other diseases fueled by abnormal transcription and gene regulation.

To promote dialogue and collaboration among researchers from the chemistry and biomedical communities, St. Jude is hosting two virtual events that will bring together a dynamic lineup of speakers around the topics of transcription, chemical biology and therapeutics.

Thursday, September 24, Aseem Ansari, St. Jude Chemical Biology and Therapeutics chair, and Charles W.M. Roberts, MD, PhD, St. Jude Comprehensive Cancer Center director, will host a virtual symposium on transcription therapy. A partner event, the 2020 Chemical Biology and Therapeutics Symposium, will be hosted by Ansari Friday, September 25.

"We hope being online will dissolve boundaries to give these symposia a global reach. The collective willingness among speakers and the audience to engage in online events and experiment with different formats will help recreate the magic of an in-person retreat," Ansari says.

Transcription Therapy Symposium

The September 24 Transcription Therapy Symposium is a collaborative effort by the St. Jude Department of Chemical Biology and Therapeutics and St. Jude Comprehensive Cancer Center. 

While transcription therapy is still a nascent discipline, it is a growing strategic and scientific focus at St. Jude, which has a history of using small-molecule compounds to therapeutically target gene regulation. One of the hard-won successes in treating pediatric leukemia relies on targeting the glucocorticoid receptor, a transcription factor. The application of glucocorticoid receptor agonists into chemotherapy regimens for pediatric patients with acute lymphoblastic lymphoma (ALL) helped to dramatically increase overall survival rates for newly diagnosed ALL to 94% at St. Jude.

"The breakdown of gene regulation is at the core of many pediatric diseases, but it is also a fundamental puzzle in biology that thought leaders at the interface of different fields of study are trying to solve," Roberts says. "The Transcription Therapy Symposium will provide an opportunity for our researchers and others to engage with the latest scientific advances in chromatin and gene regulation, transcription-targeted therapeutics and more."

In addition to Ansari and Roberts, speakers include: Paramjit (Bobby) Arora, PhD, New York University; Stephen Frye, PhD, University of North Carolina, Chapel Hill; Nathanael Gray, PhD, Stanford University; Anna Mapp, PhD, University of Michigan; Tom Muir, PhD, Princeton University; Joanna Wysocka, PhD, Stanford University; and Richard Young, PhD, Whitehead Institute for Biomedical Research (MIT).
Register for the Transcription Therapy Symposium.
2020 Chemical Biology and Therapeutics Symposium
While transcription therapy is an alluring and elusive challenge with emerging relevance for pediatric cancer and other diseases, it is part of a broader effort to integrate chemistry with biomedicine. At St. Jude, researchers in Chemical Biology and Therapeutics collaborate with their colleagues at the Comprehensive Cancer Center to discover and target biologic processes beyond gene regulation using cutting-edge and novel chemical approaches. Ansari will host the September 25 event, the 2020 Chemical Biology and Therapeutics Symposium.
The symposium will dive into major advances occurring at the interface of chemistry and biology and will feature leading external speakers as well as St. Jude faculty.
Topics include structure-guided design of smart therapeutics, small-molecule–based microarrays and novel chemical library designs, chemical dissection of cell death programs, systems-level chemical informatics and mechanistically informed clinical trials.

"The application of chemical approaches to investigate and remedy biomedical problems ties these two events together beautifully," Ansari says. "All of the speakers are leaders in their fields, and yet the breadth of the scientific enterprise is such that it is quite likely that several of them may have never crossed paths. This is how cross-fertilization of ideas occurs—new partnerships are forged—and how innovation and breakthroughs are sparked." 

The symposium will feature leading experts including Ivet Bahar, PhD, University of Pittsburgh; Philip Chamberlain, MD, formerly of Celgene; James Chen, PhD, Stanford University; Tarun Kapoor, PhD, The Rockefeller University; Angela Koehler, PhD, MIT; Jun Liu, PhD, Johns Hopkins University; Shaomeng Wang, PhD, University of Michigan; and St. Jude faculty including Scott Blanchard, PhD; Taosheng Chen, PhD; Marcus Fischer, PhD; Richard Lee, PhD; Tudor Moldoveanu, PhD; Philip Potter, PhD; Zoran Rankovic, PhD; and Anang Shelat, PhD.

Register for the 2020 Chemical Biology and Therapeutics Symposium.