Your Future, Your Decision: Tigers VAX Now HPV Vaccination Student Ambassador Program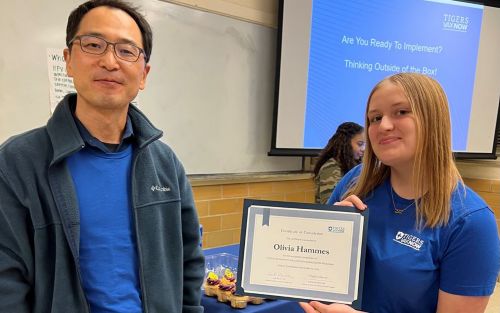 I remember my days as a young college student. I was, and remain, passionate about advocating and spreading awareness. But I never had a goal to change the world in one day. My plan was to talk to one peer at a time. I saw the value in cultivating change through these one-on-one conversations, panel discussions, tabling events and letting my peers know the importance of taking their health into their own hands.
College students are an essential population for HPV cancer prevention. As emerging adults, college students are starting to make many important health decisions for themselves, such as HPV vaccination. But students need the information, confidence and resources to do so. For many college students, the opportunity for on-time HPV vaccination might have been missed due to the lack of knowledge, beliefs or decisions of their parents, other vaccine decision makers or lack of provider recommendation. Unfortunately, many college students have aged out of eligibility for the Vaccine for Children's Program, which offers free immunization through age 18. This creates additional access for college students, who may not be privately insured, to complete the HPV vaccination series. A targeted set of solutions must be considered to assist this population.
A key focus of the St. Jude HPV Cancer Prevention Program is to increase HPV vaccination coverage through community interventions. In fall 2021, Seokwon Jin, PhD, associate professor of social work at the University of Memphis, reached out to the St. Jude HPV Cancer Prevention Program with a vision to implement an HPV student ambassador program. The idea was to start a program to help increase HPV awareness and vaccination rates among college students at the University of Memphis. As a program coordinator with the St. Jude HPV Cancer Prevention Program, I had the opportunity to collaborate with Dr. Jin and others to develop, implement and evaluate such a program -- Tigers VAX Now HPV Vaccination Student Ambassador Program.
Empowering students
The Tigers VAX Now program launched in the fall 2022. Thirteen University of Memphis college students were selected to participate in the initial cohort. The program included training components designed to build a culture of normalizing HPV vaccination as cancer prevention. The content of the training covered an overview of HPV, the importance of HPV vaccination and how to effectively communicate HPV awareness among peers on campus.
As one of the trainers, I saw student ambassadors interact with their fellow ambassadors and think of innovative ideas to engage their peers. Students were also asked to describe their plans to help implement the program on campus once the training was complete. Olivia Hammes, a University of Memphis student and Tigers VAX Now ambassador stated, "I plan to connect with student social work organizations and emerging leaders to inform them about the importance of the HPV vaccination."
I am excited to help ambassadors, such as Olivia, reach their goals of spreading awareness about the importance of the HPV vaccination.
Outreach events for college students
During the spring 2023 semester, the Tigers VAX Now student ambassadors are planning events that will begin during Cervical Health Awareness Month in January. This effort will help bring awareness to HPV vaccination and provide education on how the vaccine can prevent the majority of the 13,000 new cases of cervical cancer diagnosed each year in the United States.
The first events will occur on January 31, when the ambassadors will engage their peers by sharing information about cervical health and HPV awareness. They will also host a discussion that will include panelists in the clinical, survivorship and HPV awareness fields.
The panel discussion is open to the public, but the target audience is college students. To join the event, please register to attend. I look forward to continuing to support the student ambassadors in their efforts to help other students think about their future and their decisions. HPV vaccination for cancer prevention is an important one.
If you would like more information, please email PreventHPV@stjude.org. Learn more about HPV at stjude.org/hpv and stjude.org/bright-future.