10,000 reasons St. Jude Cloud can help advance science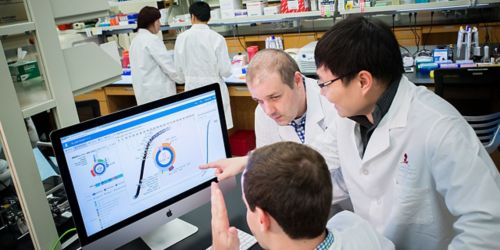 St. Jude Cloud was unveiled during the 2018 American Association for Cancer Research conference — and a year later, the world's largest repository of pediatric genome data is helping to advance scientific research and discovery.
With about 10,000 whole genomes, scientists and analysts can get a more comprehensive view of a cell's DNA.
St. Jude Cloud provides next-generation sequencing data, analysis tools and visualizations to help researchers worldwide identify new genetic drivers of childhood cancer and advance cures.
The project began in part because Scott Newman, PhD, bioinformatics scientist at St. Jude, became frustrated at the amount of time it took to download data.
"Before I came to St. Jude, I worked at another U.S. research institution, and I found something really interesting in one of our high-grade glioma patients. I wanted to see if I could find it in other patients," he said to Progress Blog last year. "St. Jude, which has shared genomics data for many years, had the biggest and best high-grade glioma dataset out there. In all, it was over 10 terabytes of information, and I had to download it from a server in Europe onto my local computer.
"Nine months to ask one question about one gene was just too much. It turned out being right, though; it was a recurring mutation … But if it were not for that slow download, we could have had an answer a lot sooner."
That same amount of information now can be done overnight.
St. Jude Cloud was named Microsoft Corp.'s 2019 Health Innovation Award recipient for creating a breakthrough solution to empower health and life sciences organizations while meeting global, local and industry-specific compliance and security standards. In the past year, more than 800 people from 400 research institutions have registered with St. Jude Cloud.
St. Jude also received the American Association for Cancer Research 2019 Team Science Award in Atlanta during the opening ceremony of the organization's annual meeting. The hospital is being recognized for research that is transforming the lives of childhood cancer survivors.
As recipient of the 13th AACR Team Science Award, the St. Jude cancer survivorship research team is recognized for its innovative, multidisciplinary research. This work has yielded more effective strategies to prevent or reduce complications related to pediatric cancer treatment and to improve the quality of life for survivors. The award comes as the number of childhood cancer survivors continues to grow. Today, 84 percent of young cancer patients will become long-term survivors. The U.S. is now home to almost 500,000 childhood cancer survivors.
Registering for the cloud levels the scientific ground for everyone. Whether at a small lab or high-powered institution, scientists want data — they want to do something to it, and then they want to see the results.
"There's still loads of stuff in those cancer genomes to be found," Newman said. "Non-coding variants, promoter mutations, new splice isoforms, super enhancers, telomeres — All it takes is the right person to ask the right question."