The St. Jude Affiliate Clinic at Mercy Children's Hospital celebrates a decade of life-saving care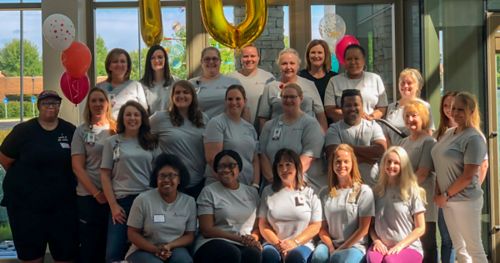 When I moved from New Jersey to start the St. Jude affiliate program in Springfield, Missouri, I saw it as a great opportunity to impact people's lives, provide exceptional care close to home, collaborate with St. Jude and have access to outstanding research. It is a privilege to navigate this healing, spiritual and emotional journey with patients and their families.
Ten years ago, it seemed nearly impossible that Mercy Children's Hospital would become a regional provider for pediatric hematology and oncology care. Today, we provide families with local access to a level of care that once would have required a four-hour road trip or a flight to a major city.
Mercy Children's Hospital now offers 28 pediatric unit beds; 12 pediatric intensive care beds; and a new neonatal intensive care unit that features private, family rooms for up to 46 infants. Our affiliate clinic space has a large infusion area where patients and their families may watch TV, play video games, or relax while the child receives chemotherapy infusions, blood product transfusions and other therapies. If the need arises during a clinic visit, patients can be promptly admitted to the hospital's inpatient unit.
Our affiliate clinic provides comprehensive treatment to patients with malignancies and blood disorders including leukemia, anemia and hemophilia. In the past 10 years, we've seen a significant growth in all areas of our program. To date, the clinic has logged more than 3,200 visits.
As a St. Jude affiliate site, we are also able to enroll eligible patients in St. Jude clinical trials. Currently, we have 18 open clinical trials. Most of our patients with malignant tumors and leukemias are treated at our affiliate with the same protocols available at St. Jude.
We work side by side with a medical staff of more than 300 pediatric specialists, including pathologists, radiologists, oncology surgeons and neurosurgeons both locally and at St. Jude Children's Research Hospital. Support for patients and their families is provided by child psychiatrists, psychologists and social workers. Other members of the multidisciplinary team include bone marrow transplant coordinators, pharmacists, dietitians and laboratory technologists. Our team of therapists encompasses physical, occupational, and speech and hearing. In addition, child life specialists provide compassionate comprehensive care for the child and family.
As we look ahead to the next 10 years, we remain committed to providing the children of southwest Missouri and northern Arkansas with exceptional care, close to home.
Program Milestones and Accomplishments
August 2009: The St. Jude Affiliate program at St. John's Hospital forms, led by Francisca Fasipe, MD.
2013: A 7,723-square-foot affiliate clinic is completed, located on the ground floor of Mercy Kids children's hospital. Childhood cancer and complex hematology patients receive outpatient care in the St. Jude Affiliate Clinic while surgery and inpatient care continue to be provided at Mercy Kids.
2012–16: More pediatric specialists and subspecialists are added to the Mercy Health Care System. Patient volumes reflect these additional services, procedures and offerings:
Pediatric Endocrinology
Pediatric Pulmonology
Pediatric Neurology
Pediatric Gastroenterology
Pediatric Neurosurgery
Pediatric Ophthalmology
Pediatric Orthopedics
Pediatric Ear, Nose and Throat
Pediatric Surgery
Pediatric Intensivist
Pediatric Hospitalist
2014: A new 46-bed, single-room NICU space is completed.
2016: Formal pediatric hospitalist program is established.
2018: An affiliate agreement allows St. Jude patients to receive medical care and participate in 18 clinical trials closer to home.