Tell me something good: Pharmaceutical Sciences team connects through daily positive news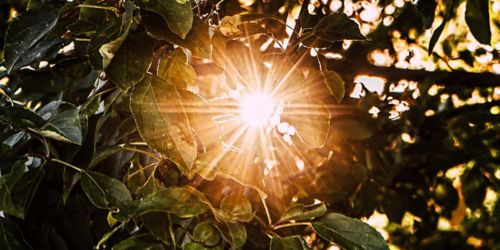 Even in trying times, good news abounds.

A surprise physical-distancing visit from a parent in the time of COVID-19. A new house. A last day of nursing school. New ways to connect with isolated friends.
It's this good news that fills the computer screens of the five-person administrative staff team in Pharmaceutical Sciences each morning. Before the pandemic, the group gathered for coffee at 8:30 a.m. at the Starbucks near Kay Kafe. They now meet via video conference—ending their daily sessions with a round of "Tell Me Something Good."
Carla Cook, the department's administrative director, proposed the idea as a way to adjust to the challenges of working from home and the uncertainty surrounding the pandemic.

"I was looking for a way to end our meetings on a positive note the first day we worked remotely, and we've kept it going," Cook said. "It's been inspiring to see everyone can still find something good."
The good news varies from small wins to major life moments. The only rule is that each team member shares one thing.
Cook told the group about a surprise visit from her mother, who just turned 75 last week and has asthma. They talk on the phone every day, but it had been several weeks since they'd met in person due to physical distancing. Cook's mom called her and told her to step outside.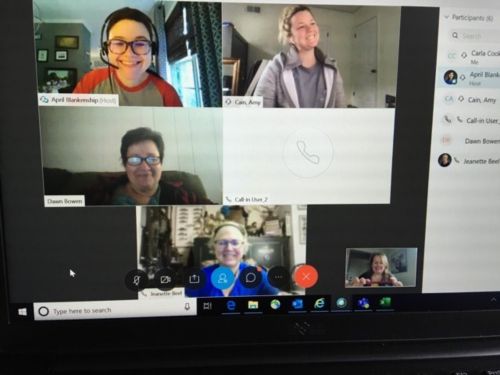 "She was waiting in my driveway just so we could see each other," Cook said. "It was so hard not to run up and give her a hug, but I was so glad to see her."

Dawn Bowen, a coordinator in the department, recently moved into a new house. While a new home has been a welcome distraction, she admits that the round-robin of positivity has given her a deeper appreciation of simple pleasures.
"It makes you think about what you've accomplished each day or the things that were good," Bowen said. "It helps me to think, 'OK, what can I do today that will make me feel good or make me feel like I helped someone in some way?'"
Administrative specialist Amy Cain finishes nursing school on May 8. Much of her good news has revolved around her final weeks of virtual classes. She has enjoyed the glimpses into her colleagues' daily lives—from pets to the kids who pop in and out of the meetings.
"I'm very lucky to be part of such a great team, and it's been great to see my coworkers in a more relaxed environment," Cain said. "We're all still professional and doing our jobs, but this experience has helped me relate to them on a more personal level."
"This has made us closer," said administrative specialist April Blankenship. "We are living in such an unusual time. Some days are great, and some days are really hard. Even though the day may not have gone the way I wanted it to go, there's still goodness in each day. There's still some light at the end of the tunnel."
Blankenship shared stories about her three young children and how a group of close friends who dined out on Tuesday evenings has started a virtual knitting group. Her colleague, administrative specialist Jeanette Beel, has used technology to connect with her church community. From that good news to a successful first-time experience of using a grocery delivery service, Beel welcomes the morning gathering at her computer.
"There's a whole lot to be grateful for and a whole lot that's good," Beel said. "This has really been nice because I'm learning about my coworkers' lives, their personalities and their work styles. It's creating a bond."