The agents of discovery: patenting and licensing ideas from bench to bedside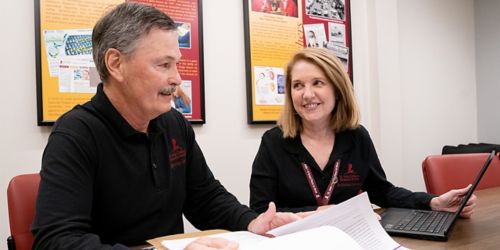 When St. Jude inventions and technologies need to be developed into drugs, therapies and other tangible products to help patients, they undergo a process of patenting and licensing. This journey from bench to bedside may include stops at the U.S. Patent and Trademark Office and the Food and Drug Administration among other regulatory agencies. The process may also involve biomedical firms that can translate St. Jude discoveries into new medicine.
The tech transfer process begins when a St. Jude researcher submits an "invention disclosure" to the St. Jude Office of Technology Licensing (OTL). The group received over 50 such notices during the 2019 fiscal year.
Unlocking laboratory discoveries
The process of patenting scientific discoveries is not simple, but it was much harder before the passage of the Bayh-Dole Act of 1980. Until then, U.S. government agencies that provided any level of support for discoveries retained the right to patent and commercialize them. Each federal agency had a different policy—or no formal policy at all—for patenting inventions they helped to fund. The result was an innovation bottleneck that lasted for decades.
"The federal government was just too far removed from the inventors and the inventions to effectively patent or license them," said Scott Elmer, JD, director of St. Jude OTL. "That's why the Bayh-Dole Act remains the foundation of technology transfer at St. Jude and all other academic institutions in the United States."
In fact, technology licensing professionals have observed the December 12 anniversary of Bayh-Dole's signing with Tech Transfer Recognition Week events.
"By allowing institutions to own inventions arising from federally funded research," Elmer said, "Bayh-Dole gave funded institutions an incentive to create tech transfer offices and look for ways to have their inventions developed into products to benefit the public."
St. Jude OTL now oversees licensing opportunities for more than 100 patented drugs, vaccines, biologics, diagnostics, discovery tools, basic research tools and other technologies. That is thanks in part to the Bayh-Dole Act.
The patenting journey begins quietly
"We're patenting innovations that begin as basic scientific inquiries and not as product development projects," Elmer said. "It just so happens that the research findings may have the potential to become a therapy."
Added Shawn Hawkins, MBA, OTL associate director: "We ask the researcher how the discovery could be used and how it's better than what's already out there. And we always ask if they have disclosed the invention outside of St. Jude, because that affects its patentability."
In order to obtain worldwide rights, OTL needs to file an initial patent application before the scientist publicly discloses their discovery.
"Another important question we ask is where their funding came from," Elmer said.  "If there is any federal funding, then the Bayh-Dole Act is triggered. We can still own it, of course, but with certain obligations. For example, the government has a non-exclusive license to use the discovery or invention for government purposes."
For basic research that shows promise of being incorporated into a medical product, time is the enemy. These patents expire 20 years after the patent application is filed. Since the patenting, licensing and product development processes take years, much of that 20-year span will have already elapsed, leaving a brief window of time for institutional patent holders and individual inventors to receive royalties for product sales.
Technology transfer at St. Jude, by the numbers
During the last four fiscal years, OTL filed 58 new patent applications. Meanwhile, results from previous St. Jude patent applications yielded approvals for 49 U.S. patents and 66 foreign patents.
Currently, close to 100 patented inventions are generating net income for St. Jude (and the individual inventors). St. Jude innovations that have been notably successful in the heathcare market include the CD19 Chimeric Antigen Receptor (CAR) therapy; the MB-107 lentiviral gene therapy for X-linked severe combined immunodeficiency (XSCID), several monoclonal antibodies; and the ALK gene, which was first discovered and reported by St. Jude researchers and led to the development of several ALK inhibitors approved as anti-cancer drugs.
Learn more: Top 7 Technology Licensing Success Stories at St. Jude