Commitment to excellence: Building a world-class Structural Biology Department at St. Jude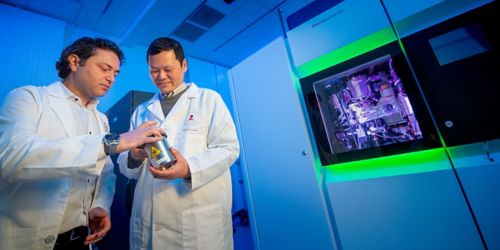 In the months before being recruited to St. Jude Children's Research Hospital, I wasn't looking to leave my job at the University of Minnesota. We were making wonderful progress in our research work, and, importantly, my wife and two young daughters were happy in Minnesota.
When I received a call that St. Jude was looking for a new Structural Biology Department chair, I was flattered but not interested in leaving. But through a series of events, I had the opportunity to visit the St. Jude campus and my perspective changed. I saw the commitment from leadership and the opportunity to build a world-class Structural Biology Department. I jumped at the opportunity and joined St. Jude in August 2017.
Structural Biology is a rapidly evolving area of science. It's an exciting time for our field—three biophysicists received the 2017 Nobel Prize in Chemistry for developing the cryo electron microscopy technique (cryo-EM), which revolutionized the way we determine structures of biomolecules and large protein assemblies.
Structural biology gives shape to biomolecules such as protein, DNA, RNA and organelles. Our department's goal is to understand life and disease at atomic detail.
But looking at one structure is not sufficient to fully comprehend how biomolecules function—we need a comprehensive view of how their structures change over time. By understanding how different biomolecules come together in the cell or outside of the cell, we learn more about life's most fundamental processes and the diseases that result when these processes malfunction.
We are growing our Structural Biology department into a worldwide resource for researchers through sophisticated biophysical techniques such as nuclear magnetic resonance (NMR) spectroscopy, crystallography, cryo-EM, single-molecule spectroscopy and mass spectrometry. St. Jude has made a strategic decision to invest in these high-resolution tools and techniques to help us achieve our goals.
A key component of our efforts will be the installation of the world's most powerful NMR magnet later this year. The 1.1-gigahertz magnet will enable us to view atomic structures of large and dynamic complexes. In addition, we are seeking to build upon the foundations of our existing work in crystallography and mass spectrometry as well as building a world-class single molecule center to examine the behavior of individual molecules.
Our Cryo-EM center is now online—this revolutionary new technique has taken the scientific world by storm, and we will integrate this with our other systems to capture the full picture of biomolecules. Our center houses two powerful electron microscopes to help us examine the structures of large protein complexes.
I'm following in the footsteps of Stephen White, DPhil, whose remarkable work as department chair in the last two decades laid the foundation for structural biology at St. Jude. We seek to expand on that legacy by integrating these systems into our work.
With this strong commitment to establishing a world-class research program in structural biology at St. Jude, we seek to change the way we look at the world.