St. Jude on Genetics: 5 Discoveries to Explore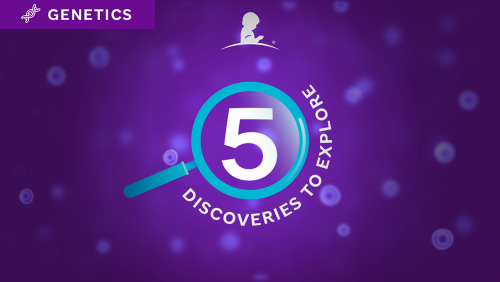 Hi, I'm Mark Hatley, MD, PhD, the director of molecular oncology at St. Jude Children's Research Hospital. St. Jude has a long history of impact and advancement in the field of cancer genetics. Here are just a few discoveries to explore.
Discovery One
In 2010, St. Jude and Washington University School of Medicine launched the Pediatric Cancer Genome Project. In the first effort to define the landscape of pediatric cancer, the Pediatric Cancer Genome Project sequenced the genomes of more than 800 patients. The project has advanced the way researchers understand and treat pediatric cancer. 
Find out more: Childhood cancer genetics: A legacy of groundbreaking work drives St. Jude forward.
Discovery Two
My lab at St. Jude discovered an important role for the tumor suppressor gene, PTEN, in a rare form of pediatric cancer called rhabdomyosarcoma. Loss of PTEN makes these tumors more aggressive. We also found that PTEN controls the expression of another gene, PAX7. PAX7 is a gene that governs not only rhabdomyosarcoma cell identity, but its stem cell identity. Loss of PAX7 was associated with tumor cell death, thus our work suggests that PAX7 may represent a new therapeutic strategy to treat these tumors.
Find out more: St. Jude scientists on the hunt for 'holy grail' cancer vulnerabilities.  
Discovery Three
St. Jude researchers found that inherited genetic changes contribute to faster aging in pediatric cancer patients. Using data from the St. Jude Lifetime cohort study (or St. Jude LIFE), they discovered that alterations in epigenetic factors, or regulatory elements of DNA that do not directly encode genes, were responsible for this phenomenon.
Find out more: Genetic predispositions can drive cancer but are not destiny for patients.
Discovery Four
St. Jude scientists recently uncovered a novel cause of an aggressive pediatric brain cancer. This study was the first to demonstrate how a transposon, or a piece of DNA that 'jumps' around the genome, can drive the expression an oncogene by donating a promoter, the cellular machinery that is responsible or regulating gene expression.
Find out more: The myth of the monolith: How molecular groups can improve cancer care.
Discovery Five
As computational approaches grow in popularity, scientists have realized that the quality of their results is very sensitive to the quality of the input data. St. Jude has created a freely available resource – St. Jude Cloud – that contains high-quality primary data including genome sequences of thousands of patients matched to transcriptome and whole exome data.
Find out more: Visualization and analysis tools break down barriers for big data.