St. Jude Helping Hands volunteers have fun and give parents a break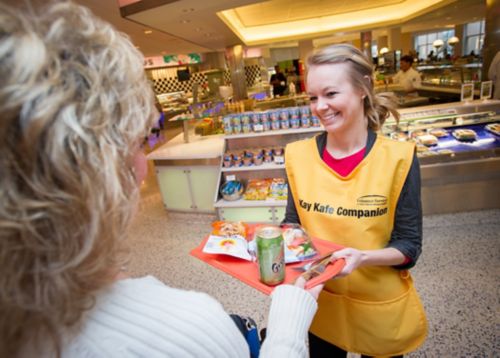 For most kids, Friday nights are filled with sleepovers, staying up late and celebrating the end of the week. But the children staying on the inpatient units at St. Jude Children's Research Hospital don't get to have a "normal Friday night." That's where I come in — and where all St. Jude Helping Hands volunteers come in.
There really isn't anything typical about my shift as a Helping Hands volunteer. This respite care program allows parents to take a short break, such as take a shower, run an errand or talk to a doctor. While they do that, I may play with one child in a hospital room, gather a group of kids for a dance-off or engage in a game of Monopoly with a group of teens.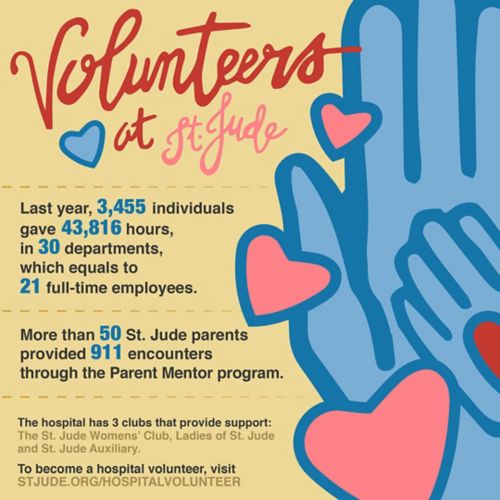 I  help give these children, and sometimes their parents, a somewhat "normal" Friday night.

I try to make each shift extra special for the patients and siblings. No two Fridays are alike. I may play with Barbie dolls and paint fingernails one night, and the next week conduct tours of the fish tanks or gaze up at the stars.
One evening, a particularly creative patient and I started a painting party near the jukebox. Within a short time, we had more than 30 patients and family members involved. As people came off the elevator, they joined us. We went to inpatient rooms to see who else wanted to take part. Even a family from ICU came down to take a break. The entire glass wall in the second-floor lobby was covered with patient and family art. It stayed up a couple of weeks.
I get so much out of serving as a St. Jude Helping Hands volunteer. The patients and their families teach me what grace is; what hope is; what joy is. They remind me of what is really important in life: being with each other, offering a smile, a shoulder and an ear. Their courage is extraordinary. Their tenacity is unmatched. Their ability to laugh and enjoy life is remarkable.
I hope the laughter and support I've been able to give some of the patients has helped them in some small way. I plan to volunteer at St. Jude as long as I physically and mentally can.
Several volunteer opportunities are available, whether you're looking for the weekend or during the week. Whether you wish to volunteer as an individual or as a group, St. Jude Volunteer Services offers something to fit everyone. Even though St. Jude Children's Research Hospital is in Memphis, there are also opportunities for volunteering outside the Memphis area.