Signed, sealed, delivered: 8-year-old patient's mailbox messages of gratitude stir employees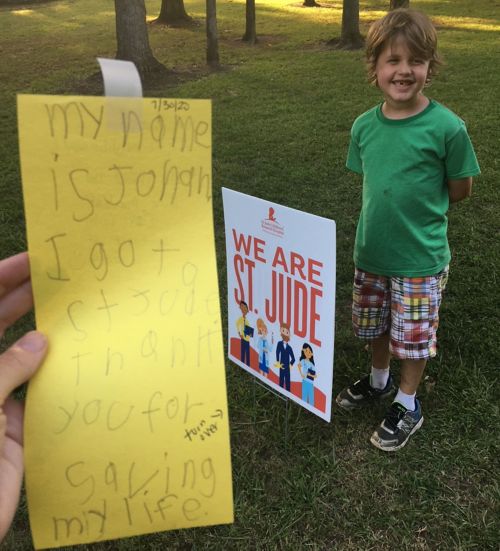 Angie McCoy steered a carful of exuberant kids through residential neighborhoods across the Memphis area earlier this summer. Her young children craned their necks, scanning front yards and porches as they passed by.

They drove through Downtown, Midtown, Uptown and all around, searching for 18-by-24–inch yard signs that featured four cartoon figures wearing lab coats, clinical scrubs, office attire and workers' coveralls.
McCoy's oldest son, Jonah, 8, spotted something up ahead. He pointed to a house and excitedly exclaimed: "Mama, mama, there's a sign."
The all-caps, red font had only four words: "We are St. Jude."
McCoy pulled to the curb. Jonah eagerly got out and strode to the mailbox. McCoy remembers a time a few years ago when Jonah was too ill to walk. She had to carry him. But now, Jonah opens the mailbox, slips in a note and runs back to the car.
They delivered a few more messages that day. It was a field trip of sorts, a rare chance to leave the house during the pandemic. But the family's outing also had a different purpose—a display of gratitude and hope during an otherwise humbug of a year.
A noteworthy day
Across town in the St. Jude Medicine Room, Anna Sitthi-Amorn, MD, a physician and faculty member in the Hospitalist Program, was having a humbug of a day.
She was in the middle of a 12-hour shift, tending to several patients and answering numerous phone calls. It was one of those days.
She hoped to be home by 7:30 that evening, but a sick patient was not doing well. Sitthi-Amorn stayed until the child's condition improved. A 12-hour workday had stretched into 15. She arrived home after 11 p.m., exhausted and ready for bed. But she still had additional work. It would be several hours before she slept.
Before she focused on her work, her husband handed her a note. It had arrived in the mailbox that day. She was unsure what it was at first. She read it more closely. It was a simple note on construction paper. Guides had been drawn to help the note's author stay in the lines.
In a second-grader's handwriting, it read: "I go to St. Jude. Thank you for saving my life. Love, Jonah."
It was a heartfelt and poignant message of gratitude that was delivered at just the right time. She did not know Jonah, but with the note in her hands, Sitthi-Amorn reflected on the magnitude of her day's work.
"That note changed everything for me that day," Sitthi-Amorn said. "It was a nice gesture. It's something that wasn't expected or required, but it was so sweet. I really want to thank Jonah and his mom for saving me that day."
Thankful thoughts
Jonah McCoy was found to have B-cell acute lymphoblastic leukemia in 2018, just days before his sixth birthday. After more than two years of treatment, he's now four months away from his last round of chemotherapy.
McCoy and her husband, Kyle, were familiar with St. Jude before Jonah got sick. She had good friends who worked at the hospital, and the couple had raised money as runners in St. Jude-sponsored races.
"Being from Memphis, I always heard about St. Jude. But I now tell people, 'You truly don't understand it until you're inside the walls and you are there every week,'" McCoy said. "It is more special than I ever envisioned."
McCoy and her family wanted a way to show their thanks amid the trying times of the pandemic. She witnessed the effect COVID-19 restrictions had on staff and families. For safety reasons, staff members were now limited to certain zones of campus or worked remotely. McCoy and her family missed seeing their smiling faces. She was certain employees felt the same.
After reading a blog from a St. Jude parent who had delivered a thank-you note to a care provider, McCoy had a thought. But when she learned the purpose of the "We are St. Jude" yard signs dotting the city's landscape, she had a plan. The signs are an effort to display resiliency and to highlight a united front for the hospital's more than 5,000 employees—those working on campus and those now working from home.
McCoy cut strips of construction paper and drew tablet lines to serve as guides for Jonah. Not only was it an opportunity to express thanks, but it was a great way to practice handwriting. Soon, Jonah's younger siblings, Charlie and Ella, joined in writing notes of their own—thanking employees for saving their brother's life. Jonah's youngest sibling, Georgia, 2, came along for the car rides.
"We haven't been able to do too much during the pandemic, so this was a big deal for them to drive around and do this," McCoy said. "It's so simple for them, just to deliver a note. It's the highlight of their day."
An attitude of gratitude
One afternoon McCoy and her children delivered notes to the home of close family friend Cindy Brasher, PharmD, manager of pharmacy compounding in St. Jude Pharmaceutical Services. Brasher was a bridesmaid in McCoy's wedding and was at the hospital the day Jonah was born.
"We walked around the complex where I lived, and the kids were excited to see so many signs," Brasher said. "They wrote their notes, and Angie handed them to me to drop off in the mailboxes."
One of Brasher's neighbors is Jennifer Larkin, senior coordinator of clinical research operations in Hematology at St. Jude. Larkin arrived home to discover a sweet message from Ella. Larkin keeps the note on the mantle in her living room as a daily reminder that little gestures have big results.
"This year has been a difficult year both pandemic-wise and personally. The letter reminded me of the good in the world," Larkin said. "That note serves as a reminder that I am so fortunate to contribute to the mission of St. Jude."
The McCoys have deposited dozens of letters in mailboxes across the Memphis area. Hospital leadership took notice and highlighted one of Jonah's letters during a virtual version of the annual State of St. Jude Address for employees. St. Jude President and Chief Executive Officer James R. Downing, MD, read the note Sitthi-Amorn had received. He followed with a message for employees.
"No matter what the day may bring or where in the hospital we may be working, kids like Jonah are counting on us," Downing said. "Our mission endures for patients today and for the next generation to come."
Additional St. Jude families have heard about the gratitude campaign and are following the McCoys' lead, spreading the appreciation to other staff members around the city. It's a heartwarming reminder that even tumultuous times have bright spots to light the way.
"I'm happy to hear these notes have made somebody's day and lifted their spirits," McCoy said. "This year has been tough on everyone, but St. Jude has done so much for Jonah and our family. I am so thankful."