Sickle cell study on path to improving therapies for children and adults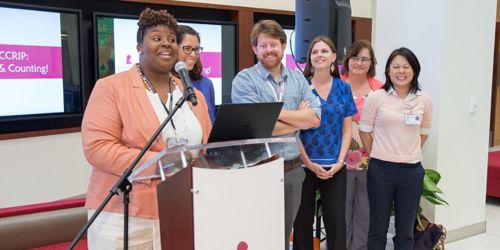 Just a few decades ago, about half of all sickle cell disease patients didn't live beyond age 20, and most did not see their 50th birthdays.
Despite drastic improvements in treatment, many with the disease still face much shorter life expectancy than the general population. Today, thanks to earlier diagnosis and new treatments, the life expectancy of children with sickle cell disease has increased 98 percent.
Now that many patients live beyond 50 years old, we still seek to study and understand this disease more thoroughly.
We've been studying sickle cell disease at St. Jude Children's Research Hospital since the hospital opened in 1962. The hospital's first research grant was for sickle cell disease. Since that time, St. Jude has developed one of the largest pediatric sickle cell programs in the country. We treat children from birth through age 18.
But what about long-term outcomes for patients? Our new study looks to answer questions about long-term health effects and possibly design new therapies.
What is sickle cell disease? 
Normal red blood cells are typically soft and round. This allows them to pass easily through small blood vessels and deliver oxygen from the lungs to other parts of the body.
People with sickle cell disease have red blood cells with a different type of hemoglobin, the main ingredient in red blood cells. This alternative form of hemoglobin alters cells into sickled or banana-like shapes that cannot move easily through blood vessels. As a result, oxygen cannot be delivered to certain body tissues, resulting in symptoms such as painful swelling of hands and feet, high fever, severe pain throughout the body, fatigue and breathing problems.
Treatments for sickle cell disease include blood transfusion, stem cell transplant, antibiotics, pain medicines and hydroxyurea, a medication that helps reduce red blood cell sickling. Nearly 100,000 Americans with sickle cell disease suffer from numerous painful symptoms throughout their lives because their blood doesn't flow normally through their bodies.
Long-term effects and treatment

The Sickle Cell Clinical Research and Intervention Program (SCCRIP) began at St. Jude in 2014 to evaluate the long-term effects of the disease and its treatments to help scientists design new sickle cell disease therapies.
The SCCRIP study established a comprehensive way of capturing clinical and laboratory information of sickle cell patients from infancy through adulthood.
By studying how sickle cell disease progresses over a lifespan, we hope to better understand predictors of sickle cell disease severity and long-term effects of current and future therapies.
The study also examines previously understudied areas related to sickle cell disease, such as chronic end-organ dysfunction, the effects of long-term hydroxyurea therapy and the critical transition to adult care. Soon, the SCCRIP program will also investigate how health risk behaviors affect adolescent and young adult sickle cell populations.
Reaching a milestone

We recently enrolled our 1,000th participant in the study which tracks participants at three of our hospital's affiliate sites in Baton Rouge, Louisiana; Charlotte, North Carolina; and Peoria, Illinois; and at Methodist Hospital in Memphis.
It will be years before we can fully realize the value of this study, but it's an encouraging step forward in a collective effort designed to improve care and health in general for individuals with sickle cell disease. In addition, SCCRIP also provides a needed platform to encourage investigators to participate in sickle cell disease research.