It takes a village: Transitioning from pediatric to adult care with sickle cell disease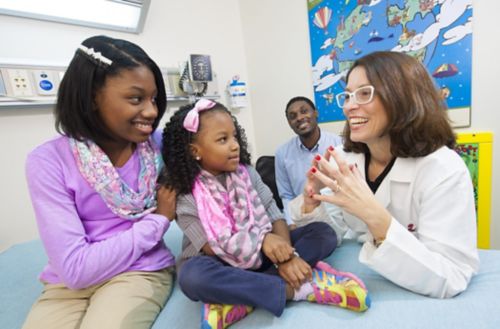 Innovative therapies for sickle cell disease are prolonging life for young patients, but these successes bring a new challenge: How do we, as health care providers, manage the disease as these children grow into adults?
The U.S. Centers for Disease Control and Prevention estimates sickle cell disease affects more than 100,000 people nationwide, with minority populations bearing the brunt. About 1 in 365 black or African-American babies is born with the disease, and 1 in 13 is born with the sickle cell trait.
At St. Jude Children's Research Hospital, we care for about 900 children and adolescents with sickle cell disease each year. As these patients age, they must seek adult health care providers to manage their condition. It can be a difficult adjustment.

Often, patients in underserved communities have limited access to hematology specialists and other health care providers who specialize in caring for sickle cell patients. In these cases, patients may have to rely on primary care providers who are accustomed to seeing only a few sickle cell disease patients each year.
Sometimes, patients may not seek care at all until they end up in an emergency room with potentially life-threatening complications.
Promising steps

We are starting to address some of these challenges through collaborations with other health care providers. For example, St. Jude established a sickle cell disease transition clinic at the Methodist Comprehensive Adult Sickle Cell Center, where each adolescent patient can be seen by a pediatric and an adult hematologist during the initial visit to adult care. This allows for continuity of medical care during the transition period.
We also developed an e-learning program, called STEP, to help teenagers with sickle cell disease learn how to care for their health as they age. Comprising videos and interactive quizzes, the series provides educational information in a format that appeals to technologically savvy adolescents. Teens who complete the program become more knowledgeable about their disease and its potential complications. They also learn how to advocate for their own medical needs in a fragmented adult health care system.
Closing the gap
St. Jude is working with the Sickle Cell Disease Implementation Consortium to identify differences in sickle cell disease treatment among providers nationwide. Additionally, we are asking health care providers, specifically in Tennessee, to complete a survey to help us learn more about current clinical practices, barriers to treatment and gaps in existing medical resources.
As principal investigator for the Tennessee arm of the survey, I encourage my fellow health care providers in the state to participate. Completing the survey should take only about 15 minutes, and responses are anonymous. Your input will help us improve the health and well-being of adolescents and adults with sickle cell disease throughout the nation.