Helping patients with sickle cell disease take charge of their health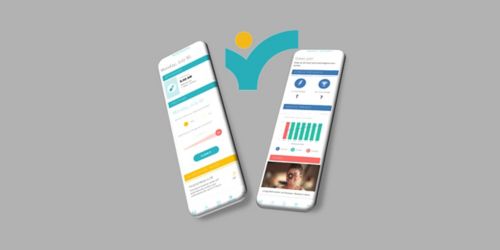 More and more, people have access to personal technology (e.g., smartphones, tablets) and are using it as a tool to help meet their health care needs. Turning to technological solutions, including the use of mobile health (mHealth) and electronic health (eHealth) approaches, is becoming more common in health care including the care of patients with sickle cell disease. However, there is no smartphone app to help patients with sickle cell disease take medicine as directed.

Sickle cell disease is a common inherited blood disorder affecting approximately 100,000 Americans, mainly of African descent. Red blood cells in people with this disease take on a sickle, or crescent shape, rather than a normal round shape. This disease is associated with lower quality of life, increased need for health care and early death. It is a debilitating illness with both acute and chronic complications. These complications can include pain, heart problems, cognitive dysfunction and worsening organ damage.
Hydroxyurea (hydroxycarbamide) is a medication used to help manage the effects of sickle cell disease.  This treatment has been available for more than 30 years, and reduces disease complications, health care use and costs. Current treatment guidelines recommend hydroxyurea for adults with sickle cell disease-related symptoms and all children with sickle cell disease. But there are barriers that can make it difficult for patients to take this medication consistently over long periods of time.
In 2016, the National Heart, Lung, and Blood Institute provided support to St. Jude and collaborators to develop a mobile health app to improve the use of hydroxyurea by sickle cell patients. Our team, spearheaded by Nicole Alberts, PhD; Sherif Badaway, MD; and Jerlym Porter, PhD, MPH, recently published an update on our work in this area. To do this, we worked with patients living with sickle cell disease to determine the barriers to taking hydroxyurea, learn about patients' needs and preferences for receiving support via mHealth, and begin developing the InCharge Health app.
Identifying and overcoming barriers
For an mHealth intervention to be effective, patients must be involved in the design and development from the outset. The same is true when designing an app that helps support people with sickle cell disease. So we took a phased approach to getting feedback from patients living with sickle cell disease, including hosting a digital workshop, giving surveys and conducting interviews and focus groups.
We identified factors that get in the way of regularly taking hydroxyurea that included forgetfulness, fear of side effects, insurance or price, stigma and fatigue. Additionally, more than half of the study's participants reported low health literacy, suggesting  a need for clear and easy-to-understand educational materials about sickle cell disease and its treatments.
Patients identified seven key features of a potential app that they would find helpful, including:
Medication reminders and a tracking feature
Disease education
Communication
Personalization
Motivation
Support during pain episodes
Social support
This feedback informed the design of the InCharge Health app. Our prototype app is a customized product for the sickle cell disease population, created with substantial input from users. The goal of the app is to improve the quality of life and health outcomes for patients with sickle cell disease.
A clinical trial is underway so adolescents and adults with sickle cell disease can test the app, and we can evaluate if it helps patients take hydroxyurea as directed. mHealth interventions for other diseases have shown considerable potential to help improve quality of life and health outcomes. By developing InCharge Health, we hope to leverage mHealth to better support patients with sickle cell disease, and ultimately help them experience the benefits of hydroxyurea treatment, including a longer, healthier life.