Where everybody knows your name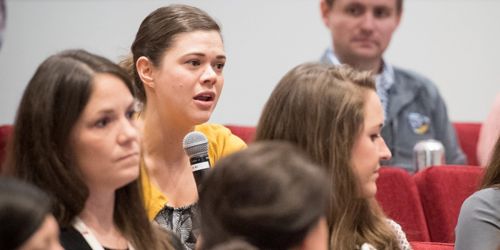 "You want to go where everybody knows your name" are lyrics from the theme song for the popular 1980s sitcom, Cheers. These words speak to our desire to spend time in a comfortable environment where we feel accepted and find common ground with others. Schwartz Rounds reminds me of that cozy Boston establishment.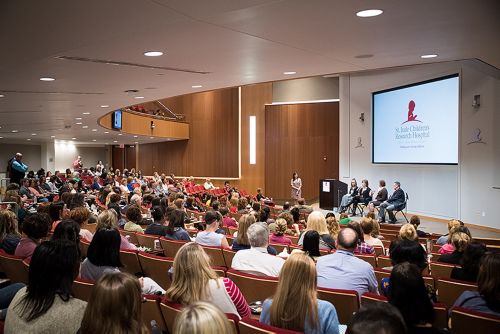 Schwartz Rounds offers an opportunity to gather with friends and colleagues from across St. Jude Children's Research Hospital and listen to stories about the social and emotional impact of caring for patients. Sometimes the stories are funny, sometimes they get your mascara running, and sometimes they make you question your own thoughts, language and actions.

More often than not, you leave Schwartz Rounds with a new appreciation for your colleagues and for the patients and families you care for. You leave with the realization that you are not alone and that everyone in the room is wrestling with similar issues and worries.
Schwartz Rounds was inspired by the late Ken Schwartz, a young attorney, husband and father. While receiving treatment for advanced lung cancer, he recognized the benefits of the human connection with his health care team. Schwartz believed that compassion in healthcare needed to be nurtured.
He outlined a plan for a center that would foster relationships between health care providers and patients. The Schwartz Center for Compassionate Healthcare was founded to honor his legacy. Schwartz Rounds is key to the center's mission and has rapidly grown to nearly 600 sites across the U.S., Canada, Australia, New Zealand, United Kingdom and Ireland.
Schwartz Rounds at St. Jude began in 2014. With an average of 230 faculty, staff, and students per session, St. Jude Schwartz Rounds is among the most well attended in the country. Rounds are not just open to direct care providers. Everyone in the institution plays a role in caring for our patients, so we hope patient shuttle drivers and bench scientists will attend along with nurses and social workers.
Employees discuss emotional topics, such as "What keeps you up at night," the withdrawal of artificial nutrition/hydration, CPR in an imminently dying child, and patient/provider boundaries. Schwartz Rounds, where everybody knows your name, provides the ideal platform for difficult, emotional, care-enhancing conversation.