SAFER Ukraine offers a new model for global emergency response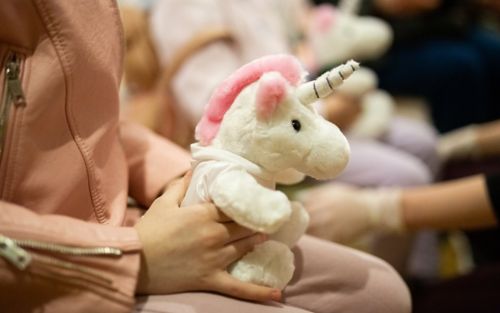 Explore the program's origin story
Prologue
Russia invaded Ukraine on February 24, 2022. Since then more than 1,000 Ukrainian children with cancer and blood disorders have registered with Supporting Action for Emergency Response in Ukraine (SAFER Ukraine), a humanitarian effort that didn't exist when the war began. SAFER Ukraine volunteers and staff have coordinated the evacuations of more than 900 patients and families fleeing the war in Ukraine to a triage clinic in Poland. From there, SAFER Ukraine participating organizations have arranged for ongoing care and transportation for the children and families through a volunteer network of medical centers and others in 18 countries across three continents.
The initial effort began with St. Jude Global Alliance, the Ukrainian Tabletochki Foundation, which supports Ukrainian children diagnosed with cancer;  Fundacia Herosi Foundation, a Polish pediatric cancer charity; the Polish Society for Pediatric Oncology and Hematology; the Mother and Child Institute in Poland; the Western Ukrainian Specialized Medical Center and additional clinical partners in Ukraine. It now includes dozens of international partners, including foundations, professional organizations and charities.
Take a look at how SAFER Ukraine began and how it may shape the responses to global health crises going forward.
"We had to do something."
For Taya Yakimkova, MD, the war in Ukraine started at 4 a.m. CT February 24. That's when she woke in Memphis to a message that Russia had invaded its neighbor.
Yakimkova is Euro Regional Program Coordinator for St. Jude Global, an initiative of f St. Jude Children's Research Hospital. By 7 a.m. CT, colleagues in Ukraine, Poland, Moldova and St. Jude had joined her online meeting room to discuss what was happening on the ground in Ukraine and how they could help. "We had to do something," she explained. "These people are not just our partners; they had become our good friends."
Within 48 hours, Yakimkova's personal digital meeting room would become the command center for a global humanitarian effort that came to be known as SAFER Ukraine. For the next two months, the command center was staffed around the clock by physicians and a global volunteer network.
"All children with cancer and blood disorders deserve equal access to care."
The foundation for SAFER Ukraine was laid with the launch of St. Jude Global, which reimagined how the hospital worked with partners worldwide. St. Jude Global was created in 2018 on the principle that all children with cancer and catastrophic blood disorders deserve equal access to care.
St. Jude Global now includes an alliance of more than 150 institutions across 68 countries in seven regions of the world. The initiative focuses on training, developing and strengthening health-care systems and sustainability. For example, a five-day virtual palliative care workshop was set to begin just days after the war started. The event involved months of planning and included Russian and Ukrainian facilitators. It was cancelled the day the war began.
Asya Agulnik, MD, MPH, of the St. Jude Department of Global Pediatric Medicine, leads the Euro Regional Program and the Global Critical Care Program. Before the war, St. Jude Global employees were in regular, sometimes daily, contact with partners throughout the region.

Agulnik and her St. Jude colleagues were keenly aware of mounting tensions along the Russian border with Ukraine. "Until the last moment, no one believed or wanted to believe an invasion was possible," Agulnik said.
"We were going to have to scale up quickly for patient evacuations."
As a critical care specialist, Agulnik is trained to work under pressure in high-stakes situations and rapidly changing conditions. That's what she and her colleagues faced during the opening days of the war.
"The Ukrainian team had always been focused on treating patients in Ukraine and improving the nation's system of care," Yakimkova said.
The Ukrainian team included Roman Kizyma, MD, and Yuliya Nogovitsyna, PhD. Kizyma is the lead pediatric oncologist at the children's hospital in Lviv, a city in Western Ukraine. Nogovitsyna is program director of the Kyiv-based Tabletochki Charity Foundation, which supports Ukrainian children with cancer. Kizyma also represents Ukraine on the St. Jude Global Euro regional advisory committee.
Attacks on Ukraine's health care system, transportation hubs, power stations and other infrastructure quickly disrupted care for thousands of Ukrainian children, including patients diagnosed with cancer and blood disorders, and put their survival at risk.
"It rapidly became clear we were going to have to scale up quickly for patient evacuations," Yakimkova said.
"The personal connections made this possible."
That's when Agulnik called Anna Raciborska, MD, PhD, in Warsaw.
Raciborska heads pediatric oncology and surgical oncology for children and youth at Mother and Child Institute in Warsaw. The institute is part of the St. Jude Global Alliance. Raciborska is also a long-time friend and colleague of Carlos Rodriguez-Galindo, MD, executive director of St. Jude Global.
Poland had already opened its borders and health insurance system to Ukrainians. The Polish Society for Pediatric Oncology and Hematology was assembling a triage system to help Ukrainian children diagnosed with cancer and blood disorders reconnect with medical care, an initiative that was led by Wojciech Mlynarski, MD, PhD, of the Medical University of Lodz in Poland. Mlynarski was one of the people Raciborska called.
Poland has since absorbed more than 300 pediatric patients diagnosed with cancer and blood disorders. "Since the war began, Poland has taken on more responsibility for pediatric blood disorder and cancer patients than any country," Agulnik said. "After that call to Anna, we started working together. It was the personal connections, the fact that we've known each other and have a mutual trust, that's what made this possible."
"Without technology, we could not have mobilized this quickly."
In Memphis, the St. Jude community mobilized. The command center soon had its own email address, a secure electronic patient registry, a system for medical records translation and distribution, break-out rooms, written guidelines for volunteer training, information sharing and more. Ultimately, the center included more than 400 international volunteers.
"Without technology, we could not have mobilized this quickly," said Meghana Avula, program administrator for St. Jude Global Operations. "Ten years ago, the speed of communication involved in this project was not possible."
Just days into the war, James R. Downing, MD, St. Jude president and CEO, emailed employees asking for volunteers who spoke Ukrainian or Polish to help with translation. First to respond was Mikhail Pogorelyy, PhD, a St. Jude postdoctoral fellow who arrived at St. Jude from Moscow in 2020.
As evacuation requests flowed in, Pogorelyy and others, including many scientists from Russia and Belarus, worked 12- to 16-hour days as researchers and as volunteers getting patients registered. "It was amazing to see the system to develop and take shape in days," Pogorelyy said.
Pogorelyy wound up managing the patient registry and volunteers. He welcomed the work. "We were trying to save kids," he recalled, "but we were also trying to save ourselves from going insane from the pain of the situation."
"There was barely time to stop and think, we just had to get it done."
Marta Salek, MD, MPH, then a St. Jude pediatric hematology-oncology fellow, happened to be in Poland visiting her grandfather when the war began. He was hospitalized and later died.
Agulnik called Salek looking for a Polish-speaking doctor who could represent St. Jude on the ground. "I knew why she was there," Agulnik said, "and didn't want to impose."
But Salek assured her that despite her grandfather's critical condition, she would find a way to help. "I don't know if we would have been able to get the effort going as quickly without her," Agulnik said.
Salek quickly connected with Malgorzata Dutkiewicz, head of Herosi Foundation in Poland. The women had never met, but they were soon talking multiple times per hour in a quest to facilitate patient evacuations and to establish a triage center in Poland for Ukrainian pediatric cancer and blood disorder patients and their families.
"There was barely time to stop and think, we just had to get it done," Salek said. "I was amazed by the response, especially Malgorzata because she did such a good job. She's already so well connected in Poland and so experienced that she knew exactly what to do and how to figure this out. She can turn a 'maybe' or a 'no' into a 'yes.'"
They found what they were looking for in a large hotel in southeastern Poland. It was reborn as the Unicorn Marian Wilemski Clinic, named for Salek's late grandfather and the mythical creature with healing powers.
More than 400 Ukrainian children and adolescents with cancer and blood disorders passed through the clinic in the first 12 weeks of the war. A majority came in one of the 15 convoys organized through SAFER Ukraine.
When patients and families crossed the Ukrainian-Polish border, high-risk and acutely ill patients were transferred directly to local hospitals. Stable patients were directed to the Unicorn Clinic, for a few hours to a few days while clinic volunteers and staff arranged for continued treatment in Poland, Europe and beyond.
At the clinic, evacuees had access to interpreters, volunteers and patient liaisons to support the practical and psychosocial needs of patients and families. Clinic signs were written in Ukrainian, Polish and English. There were welcome packets for new arrivals that explained what to expect and suitcases for those who fled with their possessions stuffed into plastic bags.
"The psychosocial support is particularly important," Salek said. "We had families (served by the clinic) who lived close to the border of Poland who never really witnessed shelling, as well as families who spent weeks in a basement or in a bomb shelter," she said. "We had families who came from a hospital in a city with frequent air sirens going off. Whenever they heard the air siren, the staff had to disconnect the chemotherapy and run to the basement with the child, returning to continue only when it was safe to do so."
"We are links of a chain and without the other links this would not have happened."
Six months after the war began, pediatric patients are still being evacuated by SAFER Ukraine and triaged though the Unicorn Clinic, although the clinic has moved to a new space.
In a report that appeared in the September issue of The Lancet Hematology, Agulnik, Mlynarski and others called the initiative a proof-of-concept that can be used to respond to emergencies that involve complex, high-risk patients. "We hope that lessons learned from SAFER Ukraine can guide the emergency response during man-made or natural disasters," Agulnik said.
She and her SAFER Ukraine colleagues cautioned that the success of the humanitarian effort depended on geopolitical conditions and other factors that will not always be present when a crisis occurs. In addition, they noted that the long-term medical and psychological outcomes of evacuation on patients and families must still be assessed.
SAFER Ukraine highlights the importance of pre-war collaborations between individuals and institutions that were years in the making. "SAFER Ukraine would not have been possible without those pre-existing relationships," Agulnik said. "We are links in a chain and without every single one of those links this would not have happened."