Role play can help physicians deliver bad news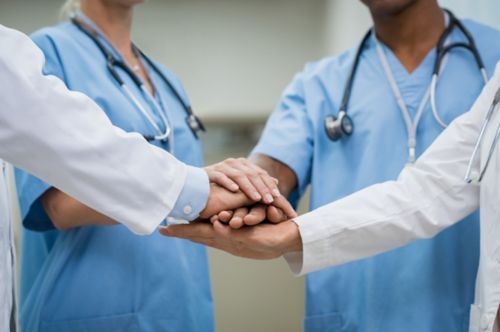 Many doctors are haunted by moments with patients and parents that didn't go well. Parents may never forget them either. When physicians share bad news, there's no script — and there are not many opportunities to learn these communication skills in school or training.
As physicians, we can all learn ways to do a better job of relaying bad news to patients and caregivers. I found a simple solution by turning to some amazing parents of our St. Jude patients.
Two years ago, my mentor Dr. Justin Baker and I began a pilot study with 12 St. Jude pediatric fellows and a handful of bereaved parent educators, parents of St. Jude patients who've died and now work to support other bereaved parents.
The fellows had the opportunity to practice communicating three different "bad news" scenarios to the parents in a small group role-play setting. Parent educators and faculty facilitators offered immediate feedback not only on what the physicians said but also on their body language.
Fellows were able to go back and practice again to gain confidence and skills. The results were promising. Physicians reported feeling better prepared and able to deliver difficult news, and this improvement lasted over time. Participating fellows were also given reference cards with reminders, key words and phrases to review prior to a meeting with patients and parents in which they might have to share difficult news. In later instances, some physicians reported replaying old training sessions in their mind while talking to parents.
We then held follow-up sessions several months later. Fellows met one-on-one with parents to review and role-play real experiences and conversations they had encountered as a way to improve their skills and hopefully improve future conversations.
"I get the opportunity to practice things there is no way I can be prepared for," said Lindsay Proud, MD, a St. Jude fellow in the Department of Oncology. "This has made me a better communicator and a better doctor."
Wendy Avery, one of the parent educators, says she finds the work rewarding.
"It's a natural relationship," Avery said. "We're equipped to handle all kinds of news about our children. We, as parents, want our doctors to share information honestly and be empathetic.
Avery, who is chair of the St. Jude Quality of Life Steering Council, said being a part of the study gives meaning to her son.
"He didn't survive, but that's why we're here," she said. "I feel like he's here with me, and it helps me find meaning to that tragedy."
These trainings are part of a comprehensive communication curriculum that is one of the first of its kind to include parent educators who work with pediatric hematology/oncology fellows. The sessions are raw and intense. But because of the pilot study's positive results and feedback from both physicians and parents, this curriculum could be expanded as an educational resource for all physicians and practitioners.
Our project continues with support from the American Society of Pediatric Hematology/Oncology. We shared our findings during the organization's annual meeting this week (ID 767: Team Members are Family: Examination of the Relationships Between Oncology Staff and Bereaved Parents and the Impact on Parental Grief.)
You can view our Quick Communication Reference Guide to help you in your own clinical work, which includes the five fundamental communications skills found below.
Five Fundamental Communication Skills
Tell Me More

Use this phrase to clarify things that you are not sure about or to encourage family to continue speaking.

("Tell me more about that…")

Ask-Tell-Ask

"What have you heard about …"

"Here is what the tests show …"

"Does that make sense to you? What questions do you have?"

"I wish" statements

Allows you to align with patient and family while acknowledging the reality of the situation.

("I wish that I could say that chemotherapy always works…")

"I wonder" statements

Allows you to explore possible options without getting locked in.

("I wonder how you would feel about …" or "I wonder if there are some other options we haven't yet considered. Would it be OK to explore some of those with you today?")

Lean in and stay silent
Silence is key! If you don't know what to say, do not say anything. Sit with patients and families and be fully present.