Researchers introduce real-time clinical genomics data using St. Jude Cloud platform at 2019 ASCO annual meeting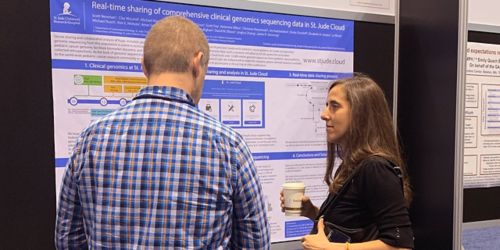 The American Society of Clinical Oncology chose the theme, "Caring for Every Patient, Learning from Every Patient" for its 2019 meeting. Along the same theme, Scott Newman, PhD, shared information on the release of real-time clinical genomics data during the annual oncology conference's pediatric oncology poster session June 1.
Newman, group lead for bioinformatics analysis working on the St. Jude Cloud project, a public data-sharing platform of pediatric genomics data, emphasizes the need for more comprehensive data. "For a lot of pediatric tumors we encounter in the clinic, there is just no data out there." Newman says. "We don't well understand the genetic changes that drive these tumors, and subsequently, we don't know how to apply targeted therapies."
In order to address this problem, he says it is vital researchers share genetic data from pediatric tumors.
St. Jude has been a big believer in the power of whole genome sequencing to define the genetic landscapes of pediatric tumors.
A recent study published in Nature Communications showed whole-genome sequencing (WGS) identified additional cancer-driving mutations in nearly half of patients. While WGS offers the most comprehensive assessment of differences between a patient's normal and cancer genomes, it's not currently in widespread clinical use. In an informal survey of ASCO attendees at the precision medicine pediatric oncology session, slightly more than half reported to using WGS selectively for clinical use.
St. Jude has been generating whole-genome, whole-exome, and transcriptome sequencing data on every patient who consents, as standard of care molecular testing since 2017.
"We want to make this high-quality, incredibly valuable, data available for research as quickly as possible," Newman says.
Instead of doing it the way we always have: identify the patients of interest, gather the samples, sequence them, make a discovery, write the paper, and then make the data available, which can take years, we've turned the whole thing around: Our clinical genomics service generates the data soon after the patient arrives at the hospital. We use the genetic findings to help pathologists and oncologists better diagnose and treat the tumors, then we release it on St. Jude Cloud for any academic researcher to use in their study."
Because the data will be stored in St. Jude Cloud, researchers can mine it without having to download terabytes of data, a process that can take weeks or months—a common problem in the genomics data-sharing field. The first release occurred in late May, just in time for the annual meeting of ASCO.
The next release is scheduled for July, at which point about 1,000 patients who have undergone clinical genome sequencing and who have consented share data will be available.
Plans are underway to include comprehensive information for patients whose clinical trials have ended.
In the follow-up pediatric oncology poster session discussion, Sharon Plon, MD, PhD, of Baylor College of Medicine, discussed Newman's poster, among others, under the topic of "Precision Medicine in the Era of Patient-Centered Care." One question that emerged was, should there be one central model or many?
"What I call the 'storm' of pediatric cancer cloud data-sharing tools, and there is an increasing number of them," Plon says, mentioning St. Jude Cloud, Kids First Data Resource Center and cBioPortal, among others.
Newman said there isn't likely to be a single huge site to house all the genomic data, rather a constellation of interconnected sites - a federation - needs to form. This is the next major challenge facing the pediatric data-sharing community. "And we do recognize that," he says. "We are already a big contributor, but to take pediatric cancer research to the next level, we'll have to make disparate sites work together to reach our common goal of finding cures."