Research restart means adapting to a new normal amid the ongoing pandemic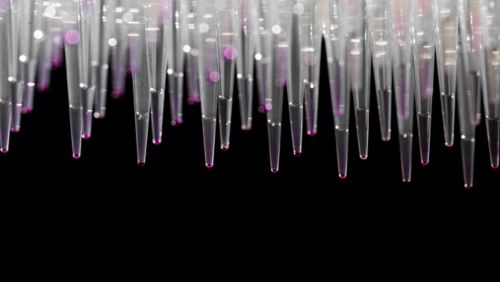 As Meritxell Bao Cutrona, a staff scientist in Chemical Biology and Therapeutics, headed to lunch recently she took a minute to update her status.

In the Chemical Biology and Therapeutics Department of St. Jude Children's Research Hospital, the breakroom chairs are gone, the departmental coffee maker is off limits and employees begin their workday by moving their magnetic name tags from "Out" to "In" on a departmental white board.

Welcome to research in the era of COVID-19. In St. Jude laboratories and shared resource centers, hand sanitizer, face masks and choreographed work shifts are the new normal. For close to three months, about 90% of the hospital's scientists, postdoctoral fellows, students and research staff worked from home. The shift was part of a larger effort to preserve essential laboratory resources and protect St. Jude patients, families and staff with measures to keep the pandemic virus outside the campus gates.

Now that percentage has flipped. About 90% of researchers and lab staff have completed COMPASS (COVID Monitoring, Preparedness, Screening and Surveillance) return-to-work training and are cleared to re-enter campus. But it's not business as usual.
"It is business as allowable," said Chris Calabrese, PhD, director of Basic Science Programs. "We have a lot of smart people who were ready to come back and restart their work."

Calabrese worked closely with department chairs and Occupational Health and Infection Control staff to define occupancy limits and establish other safety measures necessary for research to resume in earnest and safety. Implementation was left to departments and faculty.

"People understand the directives are in place to protect us and our colleagues," he said.

Research restart: Flexibility helps

On the 9th floor of the Donald P. Pinkel, MD, Research Tower, the return is a work in progress, said Aseem Ansari, PhD, chair of Chemical Biology and Therapeutics. At the beginning of the pandemic, 85% of the 120-person department worked from home. Now, physical distancing requirements mean that 40% to 50% of department faculty and staff can work on the floor at the same time. That leaves space for St. Jude colleagues to be safely onsite and use one of the department's nine collaborating centers

"The goal is to keep people safe and enable them to do their research while maintaining a friendly and community environment," Ansari said. He credited Julie Bryan, department director of operations; Natalie Racine, operations manager; and Martina Sigal, MD, PhD, department safety officer, with creating, tweaking and managing logistics to keep the department humming along virtually and on campus.

Work schedules adapt for research restart

Ansari and other department chairs have largely let labs determine their own work schedules. Computational scientists and statisticians still work remotely. Many labs have morning, afternoon and evening shifts. Labs are often busy on the weekends.

"People who are collaborating might work in adjacent time slots so one person starts an experiment and another finishes it," said Mitch Weiss, MD, PhD, Hematology chair. "People wish they had more laboratory hours, but they understand this situation will continue for some time and may be fraught with unexpected changes.

"As a department, we are trying to become more self-sufficient with respect to laboratory services, enhance our internal capacity, and continue to shape our long-term vision. We are preparing for the long term."

Improving the quality of research

While scientists were working from home, research quality improved, Weiss and Ansari both said.

"My lab has been really productive," Weiss said. "I believe they are planning their experiments more efficiently."

Ansari agreed.

"We have had time to think about things at some depth," he said.

Collaborations within labs and the department are deeper, the science is richer, the ideas and suggestions flow more easily. Ansari's department is continuing its "cyber teatime" that began during the pandemic's early months, but the virtual event has shifted from daily to weekly. Ansari said the event has helped his department get to know one another better and weather challenges as a community. "If I had known this is what would happen, I would have insisted on a two-month retreat every year," Ansari said.