St. Jude research goes for glory in STAT Madness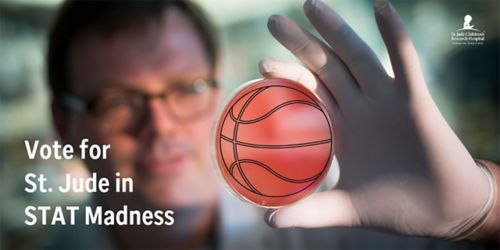 Breakthrough research is its own reward, you say? Not so fast. Not when ultimate victory in the 3rd annual STAT Madness tournament is at stake.
Three years ago, the editors at STAT, an online journal covering the business of health and medicine, decided to crown the year's most impressive scientific innovations and pioneering research. Eschewing the undemocratic approach of assembling a small, elite panel of so-called experts to sit in arbitrary judgment, STAT instead turned to a time-honored decider: the NCAA tournament-style bracket.
Sixty-four research powerhouses entered the arena. As of this writing, St. Jude, with its exploration of the genomic landscape of childhood cancer, had vanquished Wyss Institute at Harvard University to advance to the Round of 32 against the University of Texas at Austin.
We need your votes to keep St. Jude advancing through the tournament!
The St. Jude study, authored by Jinghui Zhang, PhD, Yu Liu, PhD, and Xiaotu Ma, all of Computational Biology, appeared in Nature and revealed that the same cancers in children and adults are often driven by different mutated genes, pointing to the need for different therapies and underscored St. Jude's mission to develop precision medicines for the more than 15,000 children and adolescents diagnosed with cancer annually in the U.S.
You can read more about the study here, and be sure to bookmark the STAT bracket page so you can keep voting.