Research adds to understanding of AYA patients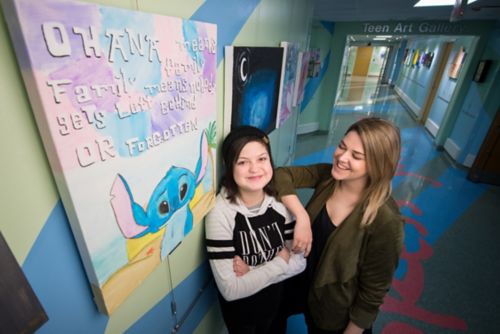 Laughing with friends in a hallway at school, taking a trip with family, getting ready for a school dance, going to camp, applying to college, choosing a career — all typical life experiences for an adolescent or young adult (AYA). Cancer upends that typical AYA experience. Due to their unique circumstances, these patients may struggle with the psychological and social aspects of their diagnosis differently than children or adults with cancer. This is because they get sick at a pivotal time of change and growth in their lives. Scientists at St. Jude are studying the psychological, social and behavioral well-being of AYA cancer patients to understand this group's unique needs better.
"Managing the unique medical and psychosocial needs of these patients requires collaboration across disciplines," said Sarah Daniels, PhD, CCLS, St. Jude Child Life Program. "At St. Jude, an organized effort to improve the psychosocial well-being of AYA patients is making progress by increasing recognition and providing care where and when they need it most."
AYA Psychosocial Committee addresses unique needs
In July 2018, St. Jude Psychosocial Services created the AYA Psychosocial Committee. The committee brings together specialists from departments and programs across St. Jude, including Social Work, Psychology and Biobehavioral Sciences, Child Life, the School Program, Spiritual Care Services, Patient and Family Centered Care and Quality of Life and Palliative Care. The committee also has a patient advisor and a caregiver advisor. The committee's members evaluate existing programs and talk with practitioners, patients and parents to identify new opportunities to address AYA patients' unmet needs.
"Around one-third of our newly accepted patients are in this AYA age range, and then there are patients who age into this," Daniels said. "For example, a patient might have been diagnosed when they were 11 and are still in treatment or need follow-up when they are 15. So, there are a significant number of patients on the St. Jude campus who are, or will be, in this age range."
Understanding AYA social interactions
Social interaction and peer relationships are critical parts of human development, which cancer disrupts, leading to social isolation and distress. This can be particularly true for patients in the AYA group, whose peers are critically important to their psychological functioning, emerging independence and sense of self. Victoria Willard, PhD, alongside Rachel Tillery Webster, PhD, both of the St. Jude Department of Psychology and Biobehavioral Sciences, and other colleagues, led research to study the social functioning of AYA survivors of childhood cancer.
Published in Psychooncology, the study found that overall, the majority of AYA survivors of childhood cancer are doing well socially. They perceive having normal or adequate social functioning associated with high social support. Further studies of this group will be useful for identifying ways to help survivors struggling socially and designing intervention mechanisms.
"Fortunately, our AYA survivors are doing well socially once they're off treatment," Willard said. "It will be important for us to find ways to support them in their social connections while on treatment, and this is why the AYA Psychosocial Committee is so important."
For AYAs, social media is where many interactions with their peers occur. Daniels and Willard led research to understand AYA cancer patient perspectives on social media. Published in the Journal of Pediatric Oncology Nursing, the study found that four themes emerged regarding social media experiences for AYA patients with cancer. Social media users described changes in their followers and the feedback they received after their diagnosis. They found social media provided a space to negotiate their feelings about their body image and find peer support.
Additionally, social media allows patients to exert control over personal, familial and societal messages about illness. AYAs with cancer also found that social media helped them maintain normalcy despite hospital stressors. The researchers found that overall social media platforms are useful for promoting social and identity development for AYA patients under cancer treatment. The researchers are continuing to investigate the role of social media in the lives of AYA patients.
AYAs and substance use
Tillery Webster, Willard, Sean Phipps, PhD, St. Jude Department of Psychology and Biobehavioral Sciences chair emeritus, and their colleagues also studied the impact of parent-child relationships on substance abuse in AYA pediatric cancer survivors. Published in the Journal of Cancer Survivorship, the study found that AYA cancer survivors are just as likely as their peers to engage in substance use. Both groups were more likely to report using multiple substances than a single substance.
"Risk-taking behaviors — such as experimenting and using substances like alcohol, vaping or smoking — are very common during the AYA time period," Tillery Webster said. "Unfortunately, for our AYA with cancer, this can worsen late effects. Thus, we need to better understand risk factors that increase use beyond experimentation and implement interventions to prevent or reduce long-term misuse of substances."
The research found that older age and ruptured caregiver-AYA relationship patterns were predictors of survivors who use multiple substances.
"These findings really highlight that AYAs are using substances, and as health care practitioners, we need to make sure we are routinely assessing for use and offering comprehensive support to patients and families," Tillery Webster added.
The AYA experience
Cancer does not define a person. This is especially true for AYAs building and managing many new aspects of their identity during their treatment. AYAs may feel various emotions as they navigate their world with cancer and the additional attention they may receive because of their diagnosis. The increased attention can come across as supportive but also make patients feel pitied.
Because of this, AYA patients may have a tough time negotiating their social habits, and while some may embrace social activities, others may withdraw from them altogether. Though engaging in social interactions and other behaviors typical of the AYA stage maybe be a good indicator of healthy adjustment, certain "typical" behaviors, such as substance use, may increase the risk for long-term health complications.
April is AYA Cancer Awareness Month. This month brings an important lens to the cancer community for patients who may get overlooked and highlights the importance of research targeting this unique and understudied group.