The future of flexible, remote work at St. Jude began last year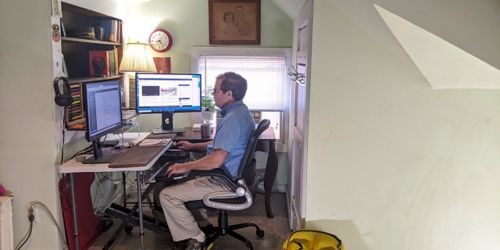 St. Jude Children's Research Hospital has begun a phased return-to-campus plan as part of the COVID-19 response. Many of my colleagues in Information Services (IS)—and those in many other St. Jude departments—will not return to campus full-time. This is a substantial shift in our working culture but something that has been on our roadmap well before the virus.
In fall 2019 our department introduced the Flexible Work Location (FWL) program. At the time, we had no idea that a pandemic would soon exponentially expand the number of employees working off-campus. Now, much of what we learned in the initial phase of that program can be applied to the current St. Jude remote work task force.
Phase 1 of the FWL program was highly structured. The original 20 FWL participants worked three days away from their offices and two days in the office, reversing that ratio on alternate weeks.
We wanted to know if productive employees could be just as effective working remotely. We also wanted to find out if employees enjoyed the flexibility. The short answer: They could, and they did.
This outcome was helpful, because we would soon be counting on some of these same employees, and many others in Information Services, to rapidly prepare our networks and platforms to accommodate 2,000 additional remote workers.
Drivers for widespread adoption of flexible work policies
Many St. Jude employees will choose to continue working away from campus, part of the time or most of the time, well into the foreseeable future. This shift in thinking was accelerated by the COVID-19 response, but new technology, culture shifts and economic forces have been gradually edging the world toward flexible work locations for decades.
Remote work option offers recruiting advantage
Competitive hiring is one of the most high-profile advantages of flexible work policies, especially in the tech sector. Even if a job candidate plans to work on location, the fact that the employer is offering flexible schedules demonstrates that a healthy life-work balance is a priority. As a result, organizations with remote work options benefit from a broader pool of job applicants.1
Remote work productivity can be higher
The high staff productivity observed in the Information Services FWL program is not unique to St. Jude. Other studies have shown that workers can be more productive working from home.2 These employees tend to start working during what was formerly their commute hours and spend more time working remotely during a given day than when they work on site.
Gallup research indicates that remote productivity is higher for occupations that rely on specific knowledge or education, and among employees whose primary responsibilities do not include responding to people's immediate, personal needs.3
Less capital costs due to remote work option
Growth does not lead to as many growing pains when an institution promotes a flexible work-location policy. Solutions for crowded office space, parking shortages, security gate congestion, and even long cafeteria lines are all expensive. Cars stay at home with remote employees. During the weeks before COVID-19 measures began, many employees volunteered to park in peripheral lots to reduce garage overflow, while a smaller pool of employees agreed to work remotely one or two days a week for the same reason. The more we work off-campus, the less St. Jude has to immediately address the pains of growth on campus.
Protecting the workplace culture of St. Jude
The greatest challenge in developing a flexible work-location program at St. Jude is the preservation of our workplace culture among remote workers. This practice will be especially vital for new and future employees. Everyone who was already working here at the beginning of 2020 has a complete, multisensory grasp of their workplace culture: personalities, informal networks, eating lunch side-by-side with patient families, and Starbucks breaks with our buddies.
New and future employees will experience a different St. Jude, even those who will be working on campus every day. Some offices will rarely be full, and their teams will gather together less often.
All of these cultural aspects of the St. Jude community will return to campus along with the employees. Adding a sustainable remote work option to that culture will require transparency and accountability from both employees and their managers. This will provide all of us with an environment to do our best work.
1 Williams, Terri. The pros and cons of flexible work policies, The Economist Careers Network, Industry Trends blog. August 22, 2019 .
2 Williams
3 Clifton, Jim, and Jim Harter. It's the Manager: Gallup Finds That the Quality of Managers and Team Leaders is the Single Biggest Factor in Your Organization's Long-Term Success. Gallup Press, 2019.