Studies of rare craniopharyngioma reveal ways to improve long-term outcomes for patients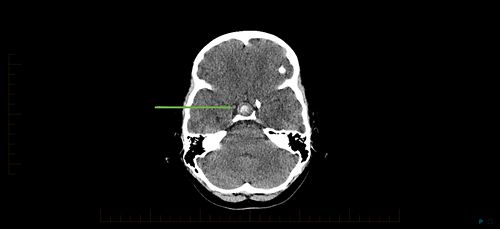 When a disease or condition is rare, it can be harder to understand because there are so few examples of it to study. But rare cancers require expertise to treat that is gained from experience and research. Scientists and clinicians at St. Jude Children's Research Hospital have this unique expertise for many types of rare childhood cancers, including the brain tumor craniopharyngioma.
Craniopharyngioma forms next to important parts of the brain such as the hypothalamus and pituitary gland. These tumors can affect vision, impact hormone levels, damage blood vessels and constrict the flow of cerebrospinal fluid. While childhood brain tumors are considered a rare disease across the board, craniopharyngiomas are rare among the rare—fewer than 150 cases occur each year in the United States in children under age 18. The survival rate for these tumors 10 years after diagnosis is 80%, but long-term problems and challenges can occur due to brain damage from the tumor or side effects of the standard treatments—surgery and radiation.
When Thomas E. Merchant, DO, PhD, St. Jude Department of Radiation Oncology chair, was recruited to the institution in the mid-1990s, he was charged with implementing conformal photon radiation therapy. Similar to the X-rays used to diagnose a broken arm, photon use for therapy are a higher energy version that, when directed at a tumor, damage and ultimately kill the cancer cells. Merchant oversaw the creation of clinical trials using photon therapy to treat craniopharyngioma and other brain tumors. The first such study, the radiotherapy 1 (RT1) clinical trial launched more than 25 years ago. The data gathered through this trial provided a wealth of information to help researchers better understand how best to care for children with craniopharyngioma.
Long-term health in craniopharyngioma survivors
The RT1 clinical trial provided the first detailed information about side effects that impact the health of craniopharyngioma survivors. Those include damage to vision and hormone levels, vasculopathy (blood vessel damage, narrowing or stroke symptoms) and necrosis, the breakdown of brain tissue.
"The RT1 protocol was one of these beautiful St. Jude clinical trials that evaluated so many different aspects of outcome. We looked at hormone production, vision, hearing, neurology and psychology, and amassed a tremendous amount of data," Merchant said. "We treated 101 patients using photon conformal radiation therapy and followed them for more than 10 years. For such a rare tumor, the length of follow-up may be truly characterized as 'long-term' regarding tumor control and functional outcomes."
Published earlier this year in Neuro-Oncology, Merchant and his colleagues shared their findings from the RT1 long-term outcomes assessment. They found that overall survival is excellent in children with craniopharyngioma treated with radiation therapy. Findings revealed different factors that influence survival and complications. The list includes whether the tumor causes hydrocephalus (a buildup of fluid in the brain) or the patient developed diabetes because of surgical damage. Going forward, the findings suggest that reducing margins and lowering radiation dose should be a priority.
"Given that the average children's hospital in the United States sees 30-40 brain tumor patients per year, and craniopharyngiomas make up less than 10% of pediatric tumors, this means that the average pediatric neurosurgeon may encounter one craniopharyngioma every 2-3 years," said Frederick Boop, M.D., Surgery. "Unless one practices at a cancer referral center, this makes it difficult for most pediatric neurosurgeons to gain expertise in the management of childhood craniopharyngiomas. The important finding of Dr. Merchant's work is that it has demonstrated that lesser, more safe surgery followed by focal irradiation of these tumors has at least as good a long-term outcome as does radical resection of these tumors, which, in less experienced hands, is often associated with less functional survivors."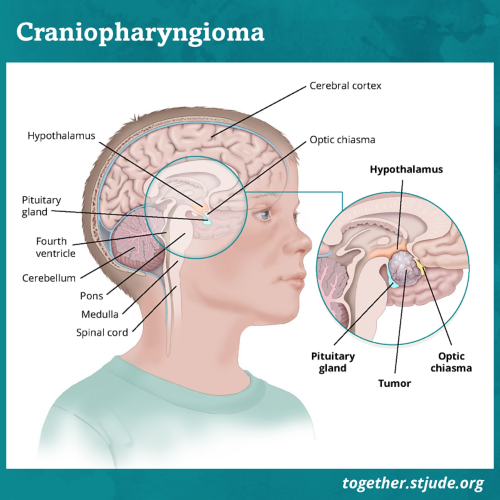 Understanding endocrine dysfunction
Endocrine issues are of particular concern with craniopharyngioma since the tumor often impacts the pituitary gland, which normally controls appropriate hormone levels. Earlier this year, Merchant and his colleagues published a separate article in Neuro-Oncology about the long-term results from the RT1 protocol regarding endocrine (hormone-related) outcomes in patients treated with surgery and photon therapy.
The study revealed that most patients with craniopharyngioma experience endocrinopathy (damage to the endocrine system). The factors that influence long-term survival, such as hydrocephalus, diabetes insipidus and race, are important considerations for endocrinopathy as well. Having a clearer picture of what factors can lead to endocrinopathy—and when it is likely to develop—can help physicians guide clinical care, design new interventions and compare available treatments.
"We tested patients before and after treatment and collected valuable information about endocrine function. We created graphs that show the incidence and time to onset of deficiencies in growth hormone, thyroid hormone, adrenal hormone and sex hormones associated with puberty—all the factors that can influence those systems," Merchant said. "Understanding that some patients have hormone deficiencies at the time of diagnosis and at specific time points after treatment helps us to create better guidelines for evaluation and follow-up."
Addressing hormone levels can improve cognitive function

The ways craniopharyngioma can damage the brain, including visual and hormone deficits, can impact the long-term cognitive function of children treated with conformal photon radiation therapy. Merchant and his team recently published in the International Journal of Radiation Oncology • Biology • Physics demonstrating that addressing problems with hormone levels can help improve cognitive function.
"This study revealed children treated for craniopharyngioma with conformal photon radiation therapy continue to experience cognitive risk," said Heather Conklin, PhD, Psychology. "Those treated at a younger age and those receiving higher radiation doses to the temporal lobes and hippocampi experience lower intellectual functioning. But, in children treated for growth hormone deficiency within 12 months of irradiation we saw better intellectual and attention outcomes."

The researchers also studied vision, generating over 2,000 data points regarding vision alone. They found impaired vision at baseline or prior to treatment was tied to lower reading scores following treatment. This type of finding highlights the importance of post-treatment management of ongoing health effects.
"Historically, survivors of craniopharyngioma have struggled with negative long-term impact from their disease and treatment that has significantly impacted their quality of life," said Niki Jurbergs, PhD, Psychology. "The findings from this study are driving advances in the treatment and post-treatment management of craniopharyngioma that decrease these risks and give these children a better shot at maintaining their cognitive functioning and related long-term quality of life."
The future of craniopharyngioma care
At St. Jude, another 140 patients with craniopharyngioma have entered the RT3CR clinical trial, which is expected to finish enrollment at the end of 2023 and uses proton therapy. Merchant also oversees proton therapy at St. Jude, which delivers charged particles of high-dose radiation directly to the cancer cells, making it more specific and less likely to effect surrounding tissue than photon therapy. The St. Jude Proton Therapy Center was the world's first proton therapy center solely for children when it opened in 2015. Plans are being developed for the next clinical trial for craniopharyngioma, which will build on the knowledge gained from previous studies.
Whether photons or protons, radiation therapy is part of the backbone of care for craniopharyngioma and can help children with this brain tumor reach long-term survival. Having built a program that has extensive experience caring for this rare tumor has helped St. Jude to better understand the disease, the outcomes, and how to improve care for children going forward.
"We have caregivers at St. Jude who are very experienced in evaluating children with this unique tumor," Merchant said. "Our providers understand these unique patients who present with a wide range of problems."
While St. Jude patients with craniopharyngioma who walk through the hospital's doors today will receive proton therapy, around the world many children are still undergoing photon therapy. This makes the encouraging data from RT1, which used photon therapy, important even in the modern treatment landscape.
"We want to build up neuro-oncology in low- and middle-income countries," Merchant said. "Proton therapy might seem like too big of a hurdle for some of those countries, but these studies show that photon therapy can have a lot of value for these patients and excellent outcome are possible."