Psychology's 10th anniversary: Department chair remembers modest beginnings, remarkable growth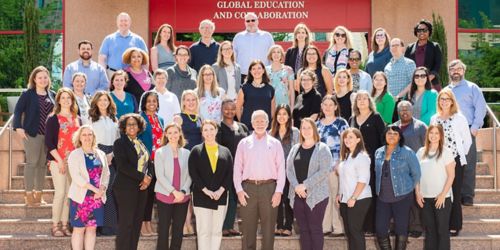 Psychologists at St. Jude deliver psychosocial care and conduct cutting-edge research to bolster the health and quality of life of children with life-threatening diseases.

The Department of Psychology at St. Jude Children's Research Hospital recently celebrated its 10th anniversary. A lot has happened in the past 10 years, but for this remembrance, I'd like to go back even further, to the very beginnings of the Psychology program at St. Jude.
In 1984, Raymond Mulhern, PhD, was hired to lead a small Psychology Division in the Radiation Oncology Department. Mulhern was recruited by the late Larry Kun, MD, who was developing the brain tumor program at St. Jude. Kun wanted to study the cognitive and quality-of-life outcomes of these patients.
Mulhern, who died in 2005, was one of the early leaders in research on cognitive late effects in survivors of both brain tumors and leukemia. His work demonstrated the importance of psychology for patient care and provided insight about the impact of childhood cancer and its treatment on patients and families.
Psychology's early days
When I was appointed to the faculty in 1989, our Psychology group consisted of three faculty psychologists; three psychological examiners, one of whom, Laurie Leigh, continues here as head of school programs; one data manager; and two administrative assistants.
What was life like for a new psychologist in those days?
I saw patients clinically four days per week. We didn't have any research assistants then, so when I wasn't seeing patients, I also recruited, consented, enrolled and collected patient data for my research protocols. My early studies included comparison data from healthy children, so I visited schools in the Memphis area, enrolling more than 1,000 students for my first two studies.
We didn't have computers back then either, so I hand-scored all of those questionnaires myself before they were entered by our data manager. Contrary to popular legend, I didn't walk six miles to work and back each day (uphill both ways), but the rest is true—now I get tired just thinking about it.
In 1993, our group became part of the Division of Behavioral Medicine, which included Social Work, Spiritual Care Services, Child Life and the School Program, with Mulhern as division chief. While providing state-of-the-art, comprehensive clinical care for patients, Psychology developed successful research programs and received funding from the National Cancer Institute and other extramural sources. Psychology slowly grew, adding research assistants, and, eventually, additional staff psychologists, which allowed faculty psychologists to protect more time for research.
A new era of growth
Mulhern had positioned Psychology to become an independent academic department. Sadly, he became ill and passed away before his dream was realized.
Behavioral Medicine became a full academic department, the Department of Behavioral Medicine, in 2009, and I was appointed chair. Shortly thereafter, I changed the name to Department of Psychology to highlight the discipline-specific nature of our work.
In the ten years since becoming a department, we have experienced continued and substantial growth. In 2009, we had five faculty and 31 full-time employees. As of next month, we will have 20 faculty and 56 full-time employees. Much of this growth has occurred gradually, with one big exception: Last year, we doubled our faculty size in a day, when eight of our clinical staff psychologists were appointed to clinical-track faculty positions. This change was made in recognition of their important contributions to patient care and program development.
We've not only grown in size, but we've also developed many new programs and expanded existing ones. For example, Heather Conklin, PhD, established a Neuropsychology section, which includes a clinical service and research program. A national leader in the study of interventions for the remediation or prevention of cognitive late effects, she was once the Psychology Department's only neuropsychologist. Now, Psychology includes six faculty neuropsychology positions.
The Psychology Clinic grew substantially under the leadership of clinic director Valerie Crabtree, PhD, with the number of clinical referrals and patient encounters moving steadily upward over the past 10 years. She also furthered integration of psychological services in the hospital, embedding psychologist liaisons in all clinical services.
Recently, Crabtree stepped down as clinic director to take on the role of Psychosocial Services chief, bringing Psychology's clinical activities back under a larger umbrella with other colleagues providing these services in the hospital. Niki Jurbergs, PhD, became the new clinic director in July. In her good hands, I know the Psychology Clinic will continue to grow and deliver outstanding clinical care.  One clinical initiative that we're particularly proud of is the Early Childhood Clinic for patients under 3 years of age. Led by assistant clinic director Jen Harman, PhD, this is a model program that sets the standard nationally for clinical care of infants and toddlers.
Leaping ahead
Looking forward, we anticipate continued growth through our involvement with the institution's Transition Oncology Program, where we will provide services to all patients as they transition off treatment. We also expect to launch the New Oncology Patient Program, where we will begin assessing all new oncology patients in the diagnostic period and as they begin treatment. Our involvement with the Sickle Cell Program has also grown. We provide support to the Sickle Cell Research and Intervention Program and its expansion to lifetime follow-up of this patient population.
Through the years, our mission hasn't changed substantially—"to optimize the ability of children with catastrophic disease to achieve full health potential and the best possible quality of life by providing unsurpassed psychosocial care and by conducting innovative clinical investigation that leads to higher quality standard of clinical care."
That's a lofty vision, one we continually seek to achieve.