Promoting HPV vaccination among childhood cancer survivors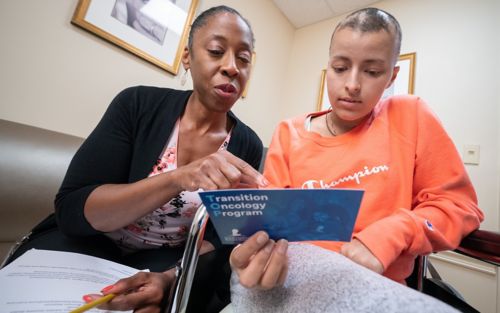 The Transition Oncology Program (TOP) at St. Jude Children's Research Hospital supports patients' families as they transition from active treatment to the off-therapy surveillance phase of their cancer journey and integrate back into their local communities.  We follow patients for the next few years of early survivorship until they transition to our long-term survivorship clinic, called the After Completion of Therapy (ACT). 
As the director of TOP and a nurse practitioner for the program, I especially enjoy talking with patients about control.  As childhood cancer survivors, patients experience much that is out of their control:  A cancer diagnosis and the need for treatments, such as surgery, chemotherapy and radiation therapy. 
As survivors, they now have much more control in terms of maximizing health behaviors to prevent additional cancers and to minimize secondary risk factors that could lead to potential late effects. We discuss ways to stay healthy, such as eating a balanced diet and avoiding tobacco exposure. But for maximum benefit, all of these behaviors, from getting enough sleep to engaging in physical activity, must be incorporated into their lifestyles and performed regularly. It's nice to be able to say, "You've already had cancer once. Would you like to learn about an easy way to help prevent other types of cancer?"
I then share that HPV vaccination is cancer prevention. HPV vaccination is recommended for everyone ages 9 to 26, ideally by the person's 13th birthday. People ages 27 to 45 are also eligible. Just two or three doses of a vaccine, depending on the person's age and immune health, greatly reduces the risk of contracting a virus that causes six types of cancer in males and females. The conversation is also a great time to dispel myths about HPV, including that only females get HPV-related cancers, that only females should get the vaccine or that HPV only causes cervical cancer.
In addition to having these conversations with patients and offering them opportunities for same-day vaccination, the Transition Oncology Program has partnered with the St. Jude HPV Cancer Prevention Program to do additional outreach as part of a quality improvement project. On the patient's off-therapy anniversary, we're sending them each a letter and an HPV fact sheet designed for survivors of childhood cancers.
We also send letters to their primary care providers. These letters highlight that HPV vaccination rates are significantly lower among childhood cancer survivors than the public even though female and male survivors of childhood cancer have a 1.4- and 2.5-fold relative excess risk, respectively, for developing HPV cancers compared with the general population[1]. Even if the survivors have already been vaccinated, we hope the letter will serve as a reminder to our primary care provider colleagues about the importance of HPV vaccination for all patients starting as early as age 9 and to encourage parents to get their other children vaccinated. On the survivors' next off-therapy anniversary, we'll request a copy of the patient's immunization record to verify HPV vaccination status and will do additional outreach to those who remain unvaccinated.
Given that 91% of cervical cancers are caused by HPV and that HPV is attributable to an estimated 11,100 instances of cervical cancer each year in the U.S., it is fitting that we are launching the first outreach effort in January, which is Cervical Health Awareness Month. I look forward to additional collaborations between Transition Oncology Program and the St. Jude HPV Cancer Prevention Program to decrease risks of cancer and other HPV-related health conditions. Our patients cannot control getting cancer, but they can control being protected against second cancers caused by HPV in the future.
To learn more, visit the St. Jude HPV Cancer Prevention Program webpage or email PREVENTHPV@stjude.org.
[1] Ojha, R. P., Tota, J. E., Offutt-Powell, T. N., Klosky, J. L., Minniear, T. D., Jackson, B. E., & Gurney, J. G. (2013). Human papillomavirus-associated subsequent malignancies among long-term survivors of pediatric and young adult cancers. PloS One, 8(8), e70349. https://doi.org/10.1371/journal.pone.0070349