Powerful Voices: Preventing HPV Cancers through Survivor Perspectives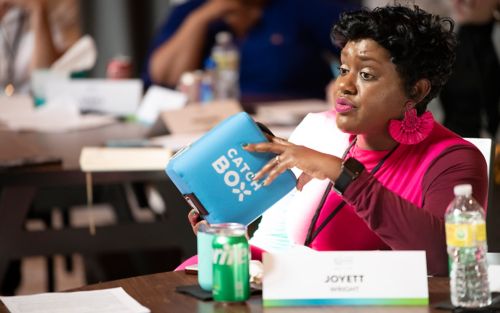 For many people, January is a time to start fresh, renew old commitments or work on achieving new dreams. For cervical cancer survivors, like Donna Montgomery and Joy Wright, January is also a time for advocacy and awareness to prevent human papillomavirus (HPV) cancers. Each year in January, the United States celebrates Cervical Health Awareness Month. This month provides an important awareness focus for people to learn about risk factors for HPV cancers, preventive measures like HPV vaccination and screening guidelines for the prevention and early detection of cervical cancers.
HPV vaccination prevents six types of cancer, including cervical cancer. Yet, according to the Centers for Disease Control and Prevention (CDC), about 13,000 women will be diagnosed with cervical cancer and more than 4,000 women die from cervical cancer each year in the U.S., despite a national screening and treatment program.
The St. Jude HPV Cancer Prevention Program realizes that the experiences of HPV cancer survivors are very important pieces to the HPV cancer prevention puzzle and has worked since the program's inception to elevate survivor voices. In October 2022, the Program hosted the HPV Cancer Survivors School based on the successful model developed and implemented by Cervivor, Inc. Participants of the HPV Cancer Survivors School had the opportunity to learn key statistics about HPV cancer prevention, how to tell their cancer survivorship stories in meaningful ways and how to leverage their stories as powerful advocacy tools for cancer prevention.
 Joy Wright, a cervical cancer survivor who currently serves as Leader of the Memphis Chapter of the National Cervical Cancer Coalition, described HPV Cancer Survivors School as an "eye opening and life changing" experience. Cervical cancer survivor and HPV Cancer Survivors School participant, Donna Montgomery, described her participation as an "absolutely amazing experience" for herself and her daughter. She continued by saying, "For HPV survivors from all over to be able to meet and work together and have this opportunity was a once in a lifetime opportunity".
Like many survivors of HPV cancers, Donna and Joy shared common experiences of stigma related to their cervical cancer diagnoses. After attending HPV Cancer Survivors School, Joy said, "I learned about the stigma associated with HPV, that I was not alone, and that I needed to be more of an advocate". Similarly, Donna said, "I have always harbored a sort of "shame" or "otherness" about my cervical cancer. Being able to participate with so many people and learn so much from others who also have my experience has been amazing."  
The HPV Cancer Survivors School curriculum was designed to help cancer survivors, like Donna, to overcome stigma related to an HPV cancer diagnosis. HPV is an extremely common virus that affects almost everyone at some point in their lives. For most people, the virus clears on its own over time, but for others, the virus persists and can develop into cancer. There is not yet a way to determine in whom the virus will persist and cause cancer, which is why HPV vaccination is such a valuable cancer prevention tool for everyone.
Donna says, "I learned so much from the literature about the HPV vaccine and the work that is being done to prevent HPV related cancers. Seeing the statistics and the work that has been done to educate and eradicate the disease was eye opening." She continued, "Before, I was never very outspoken about my cervical cancer. I plan to grab opportunities to speak about my experiences." Joy shared that she learned the importance of telling her survivorship story, and now feels like her experience really matters. "I will use my position and story to share with my peers. I will utilize platforms to share that HPV Cancer Prevention is life changing". Having participated in HPV Cancer Survivors School, Joy, Donna, and other participating survivors now have the tools and resources needed to advocate for cervical cancer prevention during Cervical Health Awareness Month and throughout the year.
The St. Jude HPV Cancer Prevention Program will continue to explore opportunities to collaborate with Cervivor, Inc. to support HPV cancer survivors and prevent HPV cancers. To learn more, visit the St. Jude HPV Cancer Prevention Program webpage or email PreventHPV@stjude.org.