Polish roots led Marta Salek, M.D., to a leading role in SAFER Ukraine effort
When her grandpa was admitted to the hospital in January 2022, Marta Salek, M.D., worried about making the trip to Poland to see him. The COVID-19 pandemic was still infecting thousands daily. If she were to catch the disease on her flight, she might put her family at risk or not be allowed into the hospital. While she was weighing the decision, the threat of violence in Ukraine, Poland's neighbor to the east, was a consideration, but more so for what it might mean for Salek's ability to see her family safely than for how it related to her work.
Salek, 32, is a pediatric hematology-oncology fellow at St. Jude Children's Research Hospital. She will join the St. Jude faculty this summer as an instructor in the Department of Global Pediatric Medicine. Her research interests are focused on improving integration of palliative care into routine pediatric cancer care around the world. As a child of immigrants (her parents moved from Poland to Canada before she was born), Salek grew up aware of the immigrant experience, which is part of what drives her interest in global health.
Having made the trip to Poland, Salek was staying with her family and visiting her grandpa daily when the war in Ukraine erupted. St. Jude Global responded to the crisis immediately, marshalling resources and organizing an effort to evacuate childhood cancer patients from Ukraine to places where they can safely continue their treatment. Poland was the most logical destination for families fleeing the violence, so there was an immediate need for people who could speak Polish to help the effort. That is how Salek first got the call, asking if she could help.
"I really knew nothing in the beginning about the powerful way that St. Jude Global would respond to the war in Ukraine, for me it was unprecedented," Salek said. "I was concerned with my family's safety and seeing my grandpa, but given the opportunity to help, I jumped in."
While the earliest moments of the war are a bit of a blur, during which her grandfather passed away, there was still no hesitation from Salek about joining the response. Alongside her colleagues at St. Jude, and partners from Ukrainian and Polish non-governmental organizations (NGOs) as well as Ukrainian and Polish doctors and health care leaders, Salek helped launch SAFER Ukraine. In the early days of the response Salek was the only St. Jude employee in Poland working on the effort. SAFER Ukraine is a large-scale humanitarian effort to ensure that children diagnosed with cancer and blood disorders from Ukraine get to safety and receive treatment.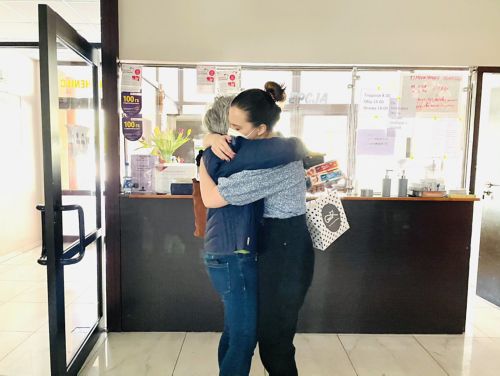 The healing power of a Unicorn

Health care systems are designed to meet the expected needs of the people they serve, with a little extra capacity for emergencies. The health care infrastructure in Poland was ready to accept Ukrainian cancer patients and realized that they could not safely care for this entire group of children alone, given the number of resources a single cancer patient requires. The SAFER Ukraine team saw the need for a triage center to ease the demand on Polish hospitals and clinics. First, they had to find a location. SAFER Ukraine partner Malgorzata Dutkiewicz, head of Herosi Foundation in Poland, worked tirelessly to identify one.
"There was barely time to stop and think, we just had to get it done," Salek said. "I was amazed by the response, especially Malgorzata because she did such a good job, and she's already so well connected in Poland and so experienced that she knew exactly what to do and how to figure this out. She can turn a maybe or a no into a yes."
Dutkiewicz and Salek were in constant phone contact – two people who had never met before, united by a common goal. When the spot was identified, it beautifully met the needed qualifications. It was a large hotel with low occupancy, with enough space for medical triage as well as lodging for patients and their families. Located near several hospitals and airports, it provides a place for patients and families to rest safely until they travel on to a final destination where their cancer care will continue.
So, they named the clinic Unicorn, in honor of the rare find and the healing power of the mythical creatures. But there was more to the name. Salek's colleagues decided to surprise her by calling the triage center the Unicorn Marian Wilemski Clinic, after her grandfather.
"When they named the Unicorn Clinic right after my grandfather died, it was completely shocking to me because it was a tribute that I never expected," Salek said. "For my family's grieving, it was just very touching to see his name honored in such a way. It was something that they didn't anticipate and it left us speechless."
Salek visited Poland often throughout her childhood and attended medical school in Krakow, her favorite city in the world. She remembers her grandfather as a humble, hardworking, doting man who always wanted to help. Qualities that fit the Unicorn clinic.
"My grandpa was 90 when he died and from a very small town in Poland," Salek said. "He was very fun, kind and smart but in a quiet way. He loved to pick mushrooms and go fishing. He always was there to help others but he never stood in anybody's way. I think that's a very nice connection to why the Unicorn Clinic is there, to help people."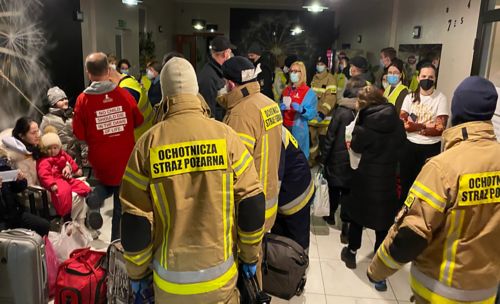 Finding hope in community

Once the clinic was established, convoys of patients began arriving from Ukraine. Each one was precisely coordinated, crossing the border into Poland and then making its way to the Unicorn clinic. Salek has been at Unicorn since the beginning, triaging patients and helping coordinate the program on the ground. She considers it a privilege to be able to do something so tangible to help.
One of the aspects of the program that Salek highlights as particularly important is the incorporation of psychosocial services to help support the patients and their families in their native language.
"We have families who lived close to the border of Poland that never really witnessed shelling, as well as families who spent weeks in a basement or in a bomb shelter," Salek said. "We have families who came from a hospital in a city with frequent air sirens going off. Whenever they heard the air siren, the staff had to disconnect the chemotherapy and run to the basement with the child, returning to continue only when it was safe to do so."
Seeing the massive volunteer response and the desire to help from all corners of the world has been a boost to Salek in difficult moments. In particular, she recalls seeing Polish firefighters meeting the patient convoys, and the patients' responses to them.
"There are these wonderful local firefighters who come and help, primarily help carry luggage and help move families when we have convoys," Salek said. "They'll help carry children too because often mothers are coming with the kids and the family sizes are all different. These little children, they miss their brothers and their uncles and their fathers left behind in Ukraine, and so you see them snuggled up to the firefighters in ways they probably wouldn't otherwise. It's very sweet to witness."
"We've built a great community quickly because we have a solid goal that has been really clear from the beginning," Salek said. "And everyone who we have working with us is incredibly hardworking and dedicated. SAFER Ukraine just wouldn't function without all these pieces working together."
Working together in an uncertain future  
When she arrived in Poland, Salek had packed a week's worth of clothing. Now, she has spent two months working with SAFER Ukraine, which continues in its mission to help Ukrainian childhood cancer patients safely continue their therapy. With a constant stream of tasks to accomplish, and new patients arriving weekly, Salek says the concept of her "day job" feels long ago and far away.
But the experience of working with SAFER Ukraine has given her an unexpected crash course in global health, in particular the approach of St. Jude Global and the Global Alliance which has forged partnerships around the world. These partnerships are the core of what makes it possible for St. Jude Global to swiftly step up to help in a crisis.
"Poland is my country and there's such a close relationship between Ukraine and Poland," Salek said. "The Polish have been so generous in their response and in giving toward the people displaced from Ukraine, and so seeing that and seeing St. Jude, my employer, step in to help. It has been so impressive and has meant a lot to me personally, it's incredible."
While the future remains uncertain, and there is no way to predict how long the Unicorn clinic will be needed, Salek is confident that SAFER Ukraine will continue to rise to the occasion.
"If I didn't work for St. Jude, I would have still wanted to help, but to have the ability to work hands on with these patients and their families, the wonderful staff and volunteers at Unicorn and at our partner organizations and with the Polish health infrastructure, it has been truly wonderful to see it all come together," said Salek.