Shining a mother's light on the Pediatric Palliative Oncology Symposium: A St. Jude mom's story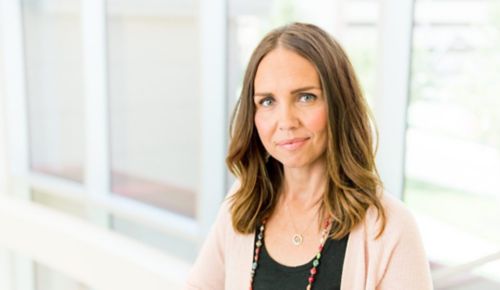 In June of 2008, we arrived on the campus of St. Jude Children's Research Hospital as a patient family. Our 9-year-old daughter, Sydney, had an inoperable brain tumor called astrocytoma anaplastic. An ugly monster was growing in my little girl's thalamus, and we were referred to St. Jude to begin our journey.
We've been on campus countless times since Sydney's death in 2009. My husband, Dean, and I have the privilege of serving as volunteers in several different capacities at St. Jude, such as the Family Advisory Council, Quality of Life Steering Committee, Bereaved Parent Mentors, Bereaved Parent Educators and Day of Remembrance committee members.
In June of 2017, we returned to St. Jude to participate in the inaugural Pediatric Palliative Oncology Symposium. As a bereaved parent, it was heartwarming to see so many physicians, fellows, nurses, chaplains and other staff members from around the world learn more about the complexities of end-of-life care for children and their families.
I'm going to be honest and say "Cancer sucks." (Can I say that word?) It especially does when it attacks a child, and it is even worse when that ugly monster steals the life of that beautiful child.
When your child dies, you have a choice. You can give in to the tragedy, or you can do something. You can try to make sense of something that will never fully make sense—and maybe find or create a purpose through and from that pain.
When Dean and I are able to participate and share our story through opportunities like this symposium, it enables us to take back life that was stolen from us. It allows us to shine Sydney's light. It helps us find purpose when we know our experiences and perspectives are changing the landscape of end-of-life care for children. Most importantly, for us, it helps Sydney live on, and it helps heal our hearts.
My hope is that those who attended the symposium learned to leave room for hope, even in the dying. When hope for a cure is no longer viable, allow us to hope in faith, if needed. We can hope in a miracle, while still being acutely aware of the reality. Let us hope in the dream of what could have been. Let us hope in quality of days, if not in quantity. Let us cope through hope. What we hope for may change from day to day, from family to family, but it may be all we have to hold on to.
I have another hope. I hope you see that we survive. Several of the conversations I had throughout the symposium seemed to come back to this point. It was healing for these care providers to see that we survive after our child dies. It never goes away. There is always a void in our lives, but we survive. Sometimes, we even thrive. I hope this truth brings you some comfort as you serve families. I hope you can see that you're doing something right. You have listened to us. You have loved on us, and the very fact that you want to learn more gives us hope.
St. Jude Children's Research Hospital and the Division of Quality of Life and Palliative Care hosted the inaugural Pediatric Palliative Oncology Symposium June 8–9, 2017. Physicians, nurses, chaplains and other health care providers gathered to discuss palliative care principles and strategies for children with high-risk oncologic diagnoses. Conference faculty included palliative care experts and St. Jude bereaved parents.