Pediatric otolaryngology: Taking care of ears, noses and throats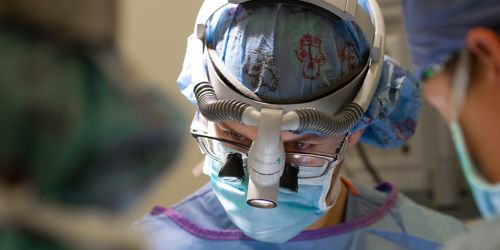 Many people are surprised to learn that hundreds of children travel to St. Jude Children's Research Hospital each year for otolaryngology services related to cancer and sickle cell disease. Anthony Sheyn, MD, chief of the Division of Otolaryngology in the St. Jude Department of Surgery, says the multidisciplinary otolaryngology team performs more than 100 operations, with about 500-700 outpatient clinic visits annually. Sheyn recently took a break to discuss the hospital's growing otolaryngology services with St. Jude Progress.
St. Jude Progress: What are the top diagnoses you encounter in your practice at St. Jude?
Tony Sheyn: I think the top three would be hearing loss, sleep apnea and thyroid cancer.
A lot of the treatments we use to treat cancer unfortunately put children at risk to develop hearing loss down the road. So we encounter a lot of hearing loss in this population.
Sleep apnea is also extremely common in children, and the special populations we see at this facility, including patients with various cancers and sickle cell disease, have extra needs to be accounted for when they are diagnosed with sleep apnea. In combination with Jeremie Estepp, MD, and his team in St. Jude Hematology, we are conducting research to establish the rate of sleep apnea in children with sickle cell disease.
And our multidisciplinary thyroid team includes specialists from solid tumor, oncology, endocrinology, radiation, psychology, genetics, ENT and pediatric surgery. We've become one of the busiest thyroid programs in the country.
St. Jude Progress: In terms of head and neck cancers, what are the more prominent ones among children?
Tony Sheyn: Various sarcomas, thyroid carcinomas and salivary gland carcinomas are the ones that present to us most often.
St. Jude Progress: About how many thyroid cancers are treated at St. Jude each year?
Tony Sheyn: In the past three years, we've done over 75 surgical procedures and have been consulted on more than 100 individual patients. We usually diagnose the cancer with an ultrasound and then a fine-needle biopsy, and the treatment is generally surgical. Depending on the final pathology, radioactive iodine might be given. But these kids require long-term follow-up afterward.
St. Jude Progress: How do you approach treatment for salivary gland tumors?  
Tony Sheyn: Children with salivary gland tumors usually present with a slow-growing mass within their salivary gland, usually in their parotid on the cheek or in the submandibular gland underneath the lower jaw. Some may have facial paralysis, which is similar to what a stroke patient would look like, but it's much slower in onset. We usually get a fine-needle biopsy, and based off that, the treatment, again, is surgical. There's very little evidence in adults that radiation or chemotherapy help, and even less evidence in children. For salivary gland tumors, we're aiming to build a multidisciplinary team similar to the one we have for thyroid cancer.
Salivary gland tumors are so rare that they're mentioned infrequently in medical literature. And yet we've had about 10 or 15 salivary gland tumors, mostly malignant, since I've been here. We see extremely rare tumors at St. Jude. It's a great place to develop treatment protocols for rare tumors like this because of our multidisciplinary approach. I have not been to another institution that has an approach like we do here.
 St. Jude Progress: What are some of the other services offered by the otolaryngology team?
Tony Sheyn: We have a variety of providers available at St. Jude to offer services in the ear, nose, and throat area. We're working with our speech pathologists to develop a voice rehabilitation program.
Brain tumor patients can experience vocal cord paralysis, whether from the tumor itself or from the necessary treatment. So, I've recently performed vocal cord re-innervations to improve speech and swallowing. I do that by injecting vocal cords, and moving them back to their natural position, or injecting the area between the trachea and esophagus to try to decrease aspiration risk in patients who have difficulty swallowing. There's very little written in the literature about voice and swallowing rehabilitation in pediatric brain tumor patients, so we're working on that, as well. The team mentality at St. Jude is fantastic.
Additionally, we are trying to become more involved with hearing rehabilitation, including the development of a cochlear implant program to help improve the quality of life of patients who have become affected by hearing loss.
St. Jude Progress: Can you talk about the hospital's success with invasive fungal sinusitis?
Tony Sheyn: Invasive fungal sinusitis is a deadly disease that affects kids who are immunocompromised. Unfortunately, a lot of our kids are immunocompromised. Providers elsewhere may see only a handful of these cases in their entire careers. We see many more.
Nationwide, the survival rate for invasive fungal sinusitis is about 50% for children. The rate is even worse in adults. The survival rate for our institution is quite a bit higher. That's because of our impressive oncology team and the way they treat these patients—the measures they take that other centers are not able to do. Our patients who must undergo surgery for invasive fungal sinusitis have a positive outcome. As a result of our success, a lot of centers are asking us for protocols on how we diagnose and treat this condition.
St. Jude Progress: How do you feel the otolaryngology services set St. Jude apart from other centers nationally or internationally?
Tony Sheyn: In terms of the dedicated team mentality to pediatric cancer and pediatric hematologic disorders, there's no other hospital like St. Jude. The other places may have similar teams, but we are a very large institution with extensive resources. Because of our patient volume, we can develop protocols to export to other centers, helping to improve patient care nationally and internationally.
St. Jude Progress: Why do you like to work at St. Jude?
Tony Sheyn: At St. Jude, I don't have to worry about how a family is going to pay for care. St. Jude is a place where a physician can come to work and feel like you're actually being a doctor, without having to worry about all the external noise. I also feel very welcome by the St. Jude community. Andrew Davidoff, MD, is the chief of surgery, and it's an honor to work with him, as well as with the entire surgery and solid tumor departments. I feel appreciated, and it's partly because of that team that I want to come to work here every day.
None of our achievements would be possible without everybody coming together and working as a team to try to improve the lives of our patients together. I would like to acknowledge all the members of our ENT team, without whom none of our successes would be possible: Jerome Thompson, MD; Jennifer McLevy, MD; Joshua Wood, MD; Christopher Vanison, MD; Sanjeet Rangarajan, MD; Nurse Practitioner Charlene Sparrow; our nurses Sabrina Duncan, Apryl Holt and Christina Barnes; and our wonderful Operating Room staff and Department of Surgery colleagues.