Adult pediatric cancer survivor represents St. Jude on Capitol Hill
More than 50 child patients, families and representatives from children's hospitals participated in the 2019 Speak Now for Kids Family Advocacy Day event in Washington D.C., to ask lawmakers on Capitol Hill to make children's health a national priority.
In a twist, St. Jude had an adult representative. Sarahbeth Howes, a 24-year-old cancer survivor from Shreveport, Louisiana, was the first adult survivor to speak on behalf of St. Jude families.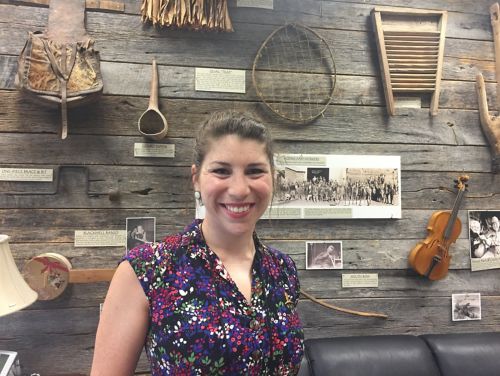 "My cancer happened 10 years ago, and it is hard to accept that the past affects your future," says Sarahbeth. "Meeting those kids and young adults, people who were like me in having something so weird happen to them, shaping their life — honestly, forever — was amazing. I connected with them, I related to them, and most importantly, I was inspired by them."

As a young teenager, Sarahbeth was diagnosed with Embryonal Rhabdomyosarcoma of the soft palate. She was diagnosed and referred to St. Jude by Dr. Donald Mack (the Shreveport-based pediatrician who dreamed up the wildly successful St. Jude Dream Home® Giveaway program).
She went through 48 weeks of chemotherapy, both at St. Jude in Memphis and the affiliate clinic in Shreveport. During the course of the aggressive treatment, Sarahbeth lost her ability to walk. But just four years later, she participates in triathlons. Sarahbeth is enrolled at LSU Medical School-Shreveport where she is studying to be a doctor in medicine. She is also an ongoing participant in the St. Jude LIFE Study, and regularly returns to the hospital for screenings.
Sarahbeth explained to the lawmakers the possibilities of beating childhood cancer. Accompanied by her husband Brett and leaders from St. Jude nursing and government affairs, Sarahbeth held meetings with senators and representatives from Tennessee and Louisiana—especially from Sarahbeth's hometown area of Shreveport— and others who have roles in health-related committee work.

The group also had time for sightseeing and a special dinner for the patient families that included live music, face painting, superheroes and games.
Sarahbeth shared stories about her time at St. Jude, and reflected on friends who lost their lives to childhood cancer. She revealed that she struggles with survivor's guilt and says the trip to D.C. was healing for her.
"I don't feel important enough to look at myself and accept what happened," explains Sarahbeth.  "But I totally 1000% think that the kids I met were superheroes—special kids who were able to use what is happening or happened to them, rather than shoving it in a closet, and share it with legislators."
"Who knew a disease could help pass acts of Congress? To think that those kids AND ME can do that is amazing. And yes—I had to look in the mirror and remind myself, I am one of those kids. I had a blast creating new memories with St. Jude and I'm inspired to begin a new chapter with the hospital."
Slide activated

Sen. Cindy Hyde-Smith

Senator Cindy Hyde-Smith (R-MS) listens to Howe's story about surviving pediatric cancer

Slide activated

Rep. Steve Cohen

Rep. Steve Cohen (D-TN 9th District) and the Howes meet outside the cloak room of the US. House of Representatives chamber.

Slide activated

Rep. Mike Johnson

Rep. Mike Johnson (R-LA 4th District) is the representative from Howes' hometown of Shreveport, Louisiana.

Slide activated

Rep. Rodney Davis

Rep. Rodney Davis (R-IL 13th District) met with the St. Jude delegation. Illinois is home to one of St. Jude's affiliate clinics.

Slide activated

Sen. Marsha Blackburn

Senator Marsha Blackburn (R-TN), greets Howes in her chamber.

Slide activated

Rep. Donna Shalala

The Howes talks about the importance of good health policy with Rep. Donna Shalala (D-FL 27th District greater Miami area). Rep. Shalala served as Secretary of Health under President Clinton.