How do you tackle a rare cancer?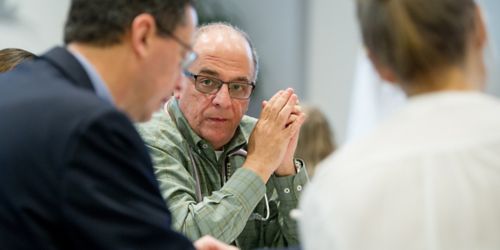 All pediatric cancers are rare diseases as defined by the Rare Diseases Act of 2002. This law defined a rare disease as one that affects fewer than 200,000 people in the United States. However, among pediatric cancers, 11% qualify as the rarest of the rare. Some of these diseases are: thyroid cancer, testicular cancer, melanoma (skin cancer), and carcinomas like adrenocortical carcinoma or nasopharyngeal carcinoma.
Research on rare diseases is especially needed because these disorders are often poorly understood. In addition, there are few clinical trials and little incentive for companies to develop drugs for these diagnoses.
One of the most successful examples for the study of rare pediatric cancers has been the creation of the International Pediatric Adrenocortical Tumor Registry (IPACTR). This project is spearheaded by Raul Ribeiro, MD, of St. Jude Oncology. With colleagues in Brazil, IPACTR facilitated research that identified various inherited mutations in the tumor suppressor gene p53. These findings have led to the recommendation that young patients with adrenocortical carcinomas be screened for Li Fraumeni Syndrome. This is an inherited cancer predisposition disorder whose hallmark is a mutation in p53.
Another way to tackle rare pediatric cancers is by creating dedicated referral clinics. At St. Jude, I help lead our Melanoma Referral Clinic. While it is rare, melanomas make up 6% of all cancers that occur in adolescents 15-19 years old. Creating a dedicated clinic allowed us to offer more comprehensive multidisciplinary care, but it also allowed us to create a registry and tissue bank for research.
Melanoma in children can occur in three forms: conventional, congenital and spitzoid. Researchers have made great strides toward better understanding of spitzoid melanoma. This subtype is the most common form of pediatric melanoma.
Research at St. Jude has shown that MAP3K8 mutations account for about one-third of this group—a finding that could only be made through the routine use of comprehensive sequencing, including whole genome sequencing since this gene is not found in current Food and Drug Administration approved genetic tests. Genetic analysis also helped our team determine that TERT promoter mutations can be used to predict a poor outcome in spitzoid melanomas. This test has now been incorporated in some centers as part of routine diagnostic evaluation.
Through research and clinical care it has become increasingly apparent that the same disease in adults can run an incredibly different course in pediatrics. In adults, gastrointestinal stromal tumor (GIST), is almost exclusively driven by mutations in KIT/PDGFR. A targeted therapy for these mutations, imatinib, has been approved for many years. In younger patients, imatinib is usually ineffective. Collaborative research has found that tumors in these patients are driven by defects in succinate dehydrogenase (SDH), an enzyme complex involved in metabolism. These tumors are now classified as SDH deficient.
Understanding the biology of rare pediatric cancers is the first step toward determining the best way to treat them. We have moved the needle against some rare pediatric cancers, but many are left to tackle. With the support of registries, tissue banks and dedicated clinics we can continue to make progress against these diseases.