Virtual reality: A new way for St. Jude parents to partner in patient family-centered care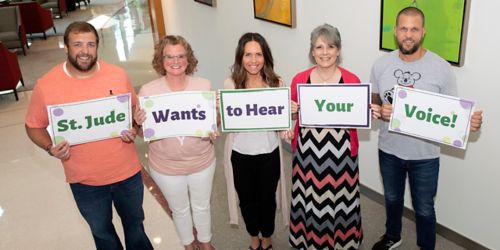 Patient Family-Centered Care at St. Jude focuses on the belief that health care staff members and families work together as partners to best meet the needs of each child.
To respond to the needs of each family, St. Jude relies on three parent-based groups to provide feedback, share experiences, educate other families and give input. The Patient Family Advisory Council, Parent Mentor Program and Quality of Life Steering Council are successful initiatives that play a major role in patient care decisions.
A new Patient Family-Centered Care program will enhance the work of these groups by including more patients and families in the feedback process. The hospital's Family, Guest and Volunteer Services Department rolled out a new online platform October 1 to coincide with Patient Family-Centered Care Awareness Month.
St. Jude Voice is a new online virtual advisory community that allows hospital staff members to gather feedback, offer insights and test ideas for patient care and family services concepts.
"Parents have a wonderful perspective that is important to patient family-centered care, but not all parents can sit on a council or come to the St. Jude campus," said Hannah Crain of Family, Guest and Volunteer Services, who coordinates the virtual advisory community. "We don't want to lose that parental insight, so this is a way to meet families where they are and at their convenience."
Because families of active patients and bereaved parents have different information needs, St. Jude Voice includes two communities. Family Voice consists of caregivers of active patients, active alumni and patients in the After Completion of Therapy Clinic. Legacy Voice was created for bereaved families.
Parents played a major role in the creation of St Jude Voice. Family Voice will focus on activities and experiences in the moment. Surveys, called "activities," are one of the many features on the platform, which replaces the former E-council of parent advisors. Family Voice will be the primary place for staff members to gather feedback and test ideas.
A central landing zone called the Hub is the place for staff members to post news and events. A steering council of staff and families will review requests.
"This will be a great way to keep parents informed," said Erin Miller, a St. Jude parent who helped create Family Voice. "This is a perfect example of patient family-centered care, and another example of how parents will always be connected to St. Jude, no matter where they are in their journeys."
Legacy Voice will feature resources for bereaved families such as books, podcasts and links to grief resources. All materials have been thoroughly vetted by steering council members.
"I feel that St. Jude Voice will really change the landscape of how we care for patients and families," said Tasha Ives, a bereaved parent who helped oversee the creation of Legacy Voice.
Emily Browne, DNP, RN, used St. Jude Voice during a soft launch this summer to gather information about patients' experiences with the new Transition Oncology Program (TOP).
"This was a fantastic way to hear a wider voice," said Browne, TOP director. "We were able to hit a much larger and diverse demographic and get some great feedback."
In the future, staff members can send targeted information to families. Surveys regarding a certain clinic or treatment program can be sent to a filtered list of recipients.
"While staff will be doing the work, this is truly a parent-led initiative," said Kathryn Berry Carter, director of Family, Guest and Volunteer Services. "The collaboration and communication between families and staff in creating and maintaining St. Jude Voice truly reflect the values of patient family-centered care."