Symposium highlights value of research in clinical practice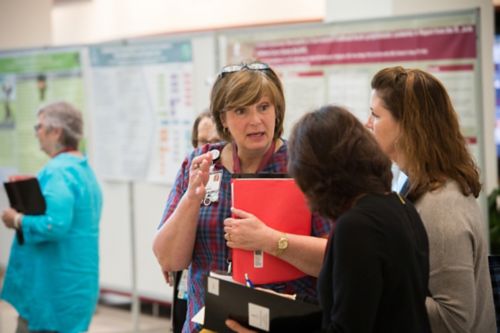 At St. Jude Children's Research Hospital, research is not confined to laboratories where scientists burn the midnight oil as they conduct state-of-the-art experiments. Instead, research occurs throughout the institution. Chaplains, social workers, interpreters and others are encouraged to conduct research in their respective disciplines—ensuring a steady stream of innovation, discovery and improvement.
To highlight the value of research in clinical practice, a recent Patient Care Services (PCS) Research Symposium featured posters and presentations on St. Jude research, evidence-based practice and quality improvement projects. Organized by the Division of Nursing Research, the event included educational sessions and served as an outlet to showcase the work of PCS staff, many of whom had never before participated in the research process.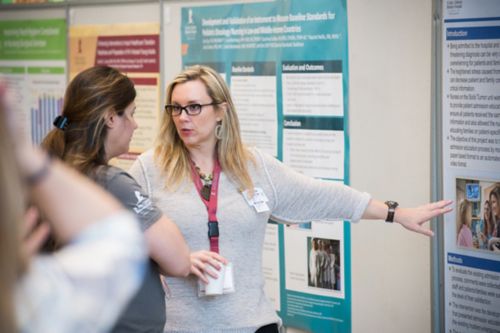 "From a professional development perspective, it's great to see a nurse or PCS staff member walk through the process of writing an abstract and completing a poster for the first time," said Emily Browne, DNP, RN, of St. Jude Nursing Research. "This is a wonderful opportunity for them to test out the process on a local level to gain experience and confidence to present at a national conference or event."

Several PCS staff members who presented at last year's symposium subsequently submitted abstracts and presented at national conferences across the country. PCS includes staff members from Cardio-Pulmonary Care, Chaplain Services, Child Life, Clinical Nutrition, Interpreter Services, Nursing, PCS Informatics, Rehabilitation Services, Social Work and Volunteer Services.
Presentations and sessions focused on compassion fatigue, pain relief, pediatric endocrinology, cancer predisposition, navigating a research project, the hospital's Biomedical Library, collaborative research in the Quality of Life and Palliative Care program and qualitative research.
A midday panel featured parents of St. Jude patients discussing their children's experiences as research participants.
Keynote speakers included Cheryl Rodgers, PhD, RN, Duke University School of Nursing, and Robert Levine, MD, Yale University, who spoke, respectively, on "Enhancing Pediatric Care through Research, Evidence-Based Practice and Quality Improvement" and "Ethics of Clinical Trials."
More than 100 health care professionals attended the symposium.