New employee orientation during a pandemic: How St. Jude adjusted and continued to hire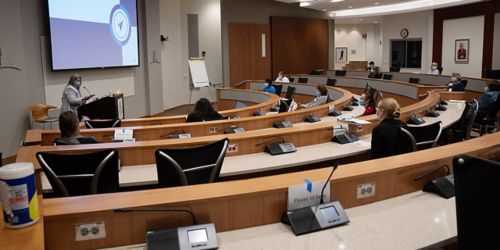 New employees used to go through a half-day of classes, department expos and campus tours. But now, like many other organizations, St. Jude has changed how it brings new staff on board. The hospital's revised orientation process ensures the safety of new employees while showing fledgling staff they are valued.

"We're still conducting orientation in a way that makes them feel welcome," says Elizabeth Bishop, EdD, Human Resources, who helps coordinate the sessions. "We're glad they are here, and they've made a great choice in coming to St. Jude. Now, we are rolling that into 'here's how we are going to stay safe during COVID-19.'"
Since the pandemic began, St. Jude continued to hire new employees and conduct weekly orientation sessions. Staff members have adjusted procedures many times as the situation evolves.
Class sizes for New Employee Orientation (NEO) are smaller to allow for physical distancing.
In the past, a new employee's first-day orientation typically ended around mid-afternoon. A lighter version, dubbed NEO Express, now concludes before 11 a.m. Supervisors then meet their new hires to discuss administrative needs. Employees are also attending COMPASS training, an experience geared at COVID-19 education and new policies. New staff undergo screening and swabbing on their first day.

Bishop hopes there's a chance to offer new employees tours or other welcoming experiences in the future. Despite the limitations, orientation evaluations have been positive.
"The majority of people feel the love when they come here," Bishop says. "They feel the warmth, the excitement, the energy."
Welcome to the team

Chia-Wei Hsu started work March 16 as a statistical analyst in the Department of Biostatistics. His colleagues greeted him with a welcome reception. They introduced themselves and shared their St. Jude experiences. The following Monday, Hsu and his colleagues began working from home.
"The most challenging thing is that I can't meet with my colleagues face-to-face," said Hsu, who moved to Memphis from Michigan. "We're still able to do our work and meet digitally, but I'm looking forward to returning to campus to work with my colleagues."
Courtney Sartain, a prior authorization specialist in the Department of Pharmaceutical Services, was in Hsu's March 16 orientation class. She also started working home after a week on campus. Sartain recalled the pleasant experience she had while interviewing on Valentine's Day, walking past a heart-themed patient event. It reminded her of her cousin, a former St. Jude patient.
She's had a few introductions through email. Sartain's director introduces her on conference calls. She looks forward to putting faces with the now-familiar voices. The hospital's rollout of the Yammer internal communications platform has helped her find new colleagues and get connected. Sartain created a book club team page and serves as a moderator of the group.
"Even though it's kind of a weird start, the experience has still been awesome," she said. "St. Jude is a great place to work, and everybody has been so welcoming."
A unique connection
Sartain isn't the only new employee with a prior connection to St. Jude. Social worker Fidencia Perez's daughter is a survivor of acute lymphoblastic leukemia who was treated at St. Jude in the 1990s. Perez works with patients who are part of St. Jude LIFE, a survivorship study that includes her daughter.
After a February 24 start date, Perez spent her first few weeks completing her training. She visited with three patients before beginning remote work. From home in Jonesboro, Arkansas, Perez makes daily phone calls to check in with childhood cancer survivors who have been affected by the coronavirus crisis. Some have lost jobs. She listens to their worries and fears. Sometimes they just want to vent.
Getting used to working from home was an initial struggle, but Perez is adapting.
"Through some training and my other colleagues sharing their struggles, I've been able to create some structure, set some boundaries and build a routine such as waking up like you are going into the office that day," she said.
Terry Wildmon, the new program manager for Regulatory Readiness in Quality and Patient Care, joined St. Jude March 30. His granddaughter is also a childhood cancer survivor who was treated at St. Jude. He met a handful of colleagues on campus during interviews and through his team's virtual happy hour chats.
"Ever since my interview, I've been eager to work with everybody one-on-one," Wildmon said. "I don't know what everybody looks like or where their offices are, but people have been great and welcoming. That's lessened some of the stress of being new and not feeling connected. The more folks I've talked to, I'm beginning to feel more engaged and embedded. I'm looking forward to seeing everybody in person."
Transitioning to campus
Wildmon started working on campus in late May for the first time. He's seen his new office and met some additional colleagues in person. St. Jude is slowly returning staff members to work in phases.
Jeffrey Steinberg, a staff scientist in the Center for In Vivo Imaging and Therapeutics, started work May 4. Originally from Cincinnati, he moved his family to Memphis from Munich, Germany, during the pandemic.
"Moving here during the pandemic was surprisingly normal," said Steinberg, who arrived in Memphis in late March as international travel restrictions increased.
Steinberg spent the first two weeks of May working from home. Most of that time involved training. He began splitting half-days between home and work during his third week. He has now met some of the key members on his team in person.
"I didn't have a chance to get to know my coworkers before starting to work from home. We have online meetings, but many of them, I only know by their voice," Steinberg said. "The good thing is that St. Jude has been very open with communication. There's a plan, and that reassures people."
Bishop has advice on ways employees can make their new colleagues feel welcome during their first months at St. Jude.
"There are a lot of new people coming onto campus who have not had the same orientation experience that a lot of us have," Bishop said. "If you have a new employee who started in the last two months, try to do what you can to share with them what makes St. Jude such a great place to work."