If pandemic fatigue sets in, do these things to search for meaning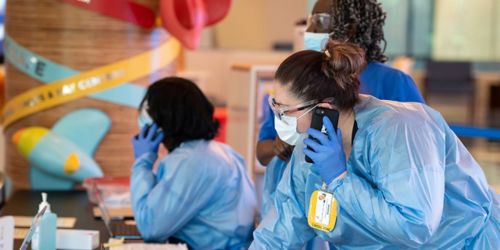 The news about the pandemic is grim.
As of Nov. 10, the World Health Organization reports 50.7 million confirmed cases of COVID-19 and 1.3 million deaths. The drumbeat of an unabated crisis — spring, summer, fall — undermines people's resolve to wear masks and avoid close contact with others.
The extra steps necessary to manage even simple things — a trip to the grocery store, a home repair call, a child's sleepover invitation — add to people's weariness and grief for the way things used to be.
"Everyone is grieving," said Brent Powell, the director of Spiritual Care Services at St. Jude Children's Research Hospital. A chaplain, he sees the effects of grief firsthand: depression, anxiety, anger.
We need to stay vigilant enough to prevent and control the spread of the coronavirus, but how do we stay resilient to pandemic fatigue?
The 'why' question
"Connecting to that question of 'why' can help us be more resilient," said Janet Sellers, the St. Jude Staff Resilience Center program manager. 
While scientists investigate the why and the how questions related to SARS-CoV-2, the virus that causes COVID-19, Sellers suggests that people think about the why questions related to precautionary measures: Why wear a mask to the family barbecue? Why decline a birthday party invitation? Why put a "no mask, no entry" sign on the front door?
The simple answer — prevent sickness, protect yourself and others — provides meaning, a sense of purpose. Sellers urges everyone to connect to meaning and purpose to reduce fatigue and fuel motivation. 
Create meaning
In 1946, the late psychiatrist Viktor Frankl wrote Man's Search for Meaning, a classic book about his experience in World War II concentration camps. His mother, father and wife perished in the camps.
Frankl developed a theory of psychotherapy that put the human search for meaning at its center. He identified three pathways to meaning: work, love and suffering.
These pathways are open to anyone.
Many St. Jude employees derive meaning from their work. Work is more than a job; it's a calling. It's an opportunity to show compassion and allay suffering. "One should not search for an abstract meaning of life," Frankl wrote. "Everyone has his own specific vocation or mission in life to carry out a concrete assignment which demands fulfillment."
A journey 
St. Jude employees go the literal extra mile to ease the suffering of patients and families. Many register for the annual St. Jude Memphis Marathon Weekend, which also includes a 5K, 10K and half marathon, to raise money for the hospital. 
At first, Sellers used a race metaphor to talk about the pandemic. 
"I like to say journey now instead of marathon," she said, suggesting that finding meaning is more complicated without a finish line festooned with banners and balloons. On a journey, you need to think more about your pace — and your purpose.
A fellow traveler, Sellers might advise you to pack your running shoes and racing bib. The route is uncertain, so it's OK to leave the course map at home. Instead of looking at a map, Sellers recommends boosting your resilience to stress. The Centers for Disease Control and Prevention offers tips for coping with stress during a pandemic.
Meaning begets joy
Finding meaning is the main strategy that Sellers advises for pandemic fatigue. You can find meaning in work, love and suffering. Frankl said the third path is the most important. 
"In some ways suffering ceases to be suffering at the moment it finds a meaning, such as the meaning of a sacrifice," he wrote. 
Last year, Sellers asked employees to answer one question: What brings you joy in work? One employee wrote "finding a way to ease the suffering, no matter how small, in the life of a parent or child at St. Jude." 
Sellers wants all St. Jude employees to feel joy at work, a natural by-product of their commitment to the compelling St. Jude mission of finding cures and saving children. 
This year, to push back against the fatigue that permeates this time of crisis and caution, Sellers asked employees once again to answer the joy in work question. 
"Lately, I've been watching people's eyes," someone said. "It brings me joy to see a smile in someone's eyes."
A mask obscures the nose and mouth but not the eyes. During the pandemic, both the eyes and the mask are windows to the soul.
This article is the first in a series about coping with pandemic fatigue featuring St. Jude Psychosocial Services staff — a resilience expert, a pediatric chaplain and a clinical psychologist.