Tackle pandemic fatigue with good grace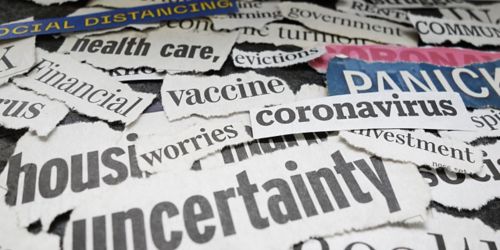 Elizabeth Hawkins, a chaplain at St. Jude Children's Research Hospital, yearns for the real deal: packed lunches; crumpled artwork retrieved from a backpack for the refrigerator door; a brightly lit classroom decorated for the holidays.

"My son would have started kindergarten this year," she said. Then she quickly corrected herself. Her son, in fact, currently attends virtual kindergarten from home because of the pandemic.

It's not what she imagined.

Hawkins downplays her sadness. She understands the all-consuming worry of parents caring for children with life-threatening diseases and the profound grief of bereaved families.

Also, St. Jude families regularly go through this grief of missing out. Patients miss first days of school, high school graduations, holidays with extended family, the football games and dance recitals of siblings. This year it's worse than ever. For example, family friends cannot visit patients, a necessary precaution to prevent the spread of COVID-19.

Hawkins contends that all grief matters, and attention must be paid to hidden grief—sorrows that are often unacknowledged or minimized by others and those who experience them.

But what's the best way to attend to those in emotional pain?
Three pathways to saving grace
Recent headlines are bleak: "U.S. surpasses 13.8 million infections"; "Coronavirus restrictions reimposed." For months now, many people in the nation and around the world have felt rudderless, emotionally exhausted and grief-stricken.

Hawkins says people need to remember a time-tested and simple method for allaying grief: grace toward others.

It's not the salvation-of-sinners or the blessing-said-before-a-meal type of grace. It's the disposition to be generous or helpful to someone in word or deed.

It's kindness.

"We're all grieving, and we need to be kind to each other," Hawkins explained.

So, how do we do that? How do we increase our awareness of hidden grief among patients, families and coworkers so that we're disposed to kindness?

Hawkins recommends three pathways:

Recognize everyone has a story. According to Hawkins, feelings of grief are part of everyone's story. "That's true all the time," she said, "but it's definitely felt more acutely in the time of a pandemic when people are grieving not only death but the loss of normalcy." All too often, our default setting is to overlook this fact.
Listen for emotion. In conversation, someone may tell you about a source of hidden grief—a parent who cannot plan a child's birthday party with friends, a coworker who had to cancel the regular Sunday night dinner with extended family, a grandparent who misses visits with grandchildren, a friend who couldn't attend a family member's funeral service. These are opportunities to respond with grace. "I have to constantly remind myself to listen, because people are sharing things that are real losses for them," Hawkins said. 
Question your assumptions. If someone gets unfairly angry with you, don't mutter a comeback under your breath. Look for other causes for this behavior: stress, fear, frustration, grief. Maybe they're concerned about an elderly parent, job security or a postponed wedding. "I constantly remind myself that there are layers of grief underlying all of our interactions," Hawkins said.
Grace for yourself
Extend grace to yourself, as well.

Recently, Hawkins wrote a short article with an autumn theme for the hospital's Staff Resilience Center, a program developed to boost employees' ability to bounce back from adversity.

"I wrote that article as a reminder to myself," she said. Amid loss and grief, she wants to have light moments—time to be playful and enjoy simple pleasures.

"I love all things pumpkin," Hawkins said. In the article, she extolled the simple pleasures of cooler temperatures, autumn leaves and homemade apple pie. 

She loves Rosh Hashana, the Jewish new year, which occurred in September this year. As part of that tradition, Jewish people eat apples dipped in honey, an optimistic act in anticipation of a sweet new year.

"I'm not Jewish, but I'm co-opting that tradition," Hawkins said.

Grace as kindness spans religious and ethical traditions. When someone is bearing more than anyone should have to bear or adapting to losses and new ways of being in a world turned upside down by the pandemic, extend grace.

In other words, do something that you probably learned on the first day of kindergarten.

Be kind.

This article is the second in a series about coping with pandemic fatigue featuring St. Jude Psychosocial Services staff — a resilience expert, a pediatric chaplain and a clinical psychologist.
---
If pandemic fatigue sets in, do these things to search for meaning