On the shoulders of a giant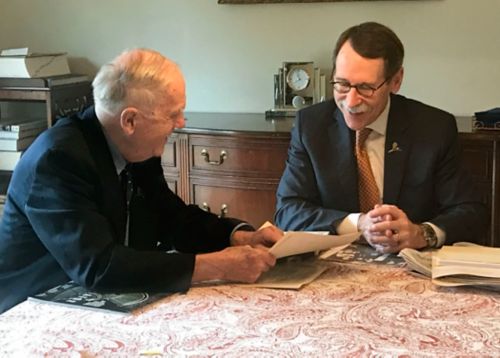 More than 55 years ago, Donald Pinkel, MD, stepped out of an old station wagon and surveyed a ragged construction site that would soon become St. Jude Children's Research Hospital. The modest facility contained only one finished room—his office.
Only 34 years old, the new medical director of St. Jude had accepted a seemingly impossible task: To create from the ground up a research hospital for children with cancer and other life-threatening diseases.
I recently had the privilege of visiting Dr. Pinkel in his home, where he shared memories of his time at St. Jude. That was a dark, tumultuous and yet exciting era.
"I was told that I was throwing away my career," Dr. Pinkel said of the time. "I said, 'Well, it's a good way to throw it away.'"
Unlike most of his peers in the early 1960s, Dr. Pinkel believed that cures were not only a realistic goal but the only acceptable one.
Under his leadership, St. Jude developed the first effective therapy for acute lymphoblastic leukemia (ALL), raising survival rates from nearly zero in 1962 to 50 percent in the Total V study of 1967–68. His revolutionary Total Therapy approach, combining multiple anticancer drugs with treatment to kill leukemia cells in the central nervous system, earned Dr. Pinkel the 1972 Albert Lasker Clinical Medical Research Award and the 1986 Charles F. Kettering Prize, among other honors. Read more on Dr. Pinkel's legacy at St. Jude.
Dr. Pinkel's vision as a leader and his tenacity as a scientist led to groundbreaking changes, saving countless lives in the process. His work created a strong foundation for St. Jude. In fact, the Total Therapy approach is still used in Memphis and around the world. Today, 94 percent of children with ALL treated at St. Jude will survive their disease.
Dr. Pinkel dared to dream of a day when childhood cancer could be cured. We follow his example by dreaming big, questioning convention and refusing to accept the status quo.
Although we've made remarkable progress toward curing many catastrophic diseases, cancer is still the leading cause of death by disease among children in the U.S.
To change that scenario, we've created a bold plan to drive success on three fronts: in the clinic, in the lab and around the world. Read more on the St. Jude 2016–2021 strategic plan.
The plan aims to double the number of children treated on St. Jude-led clinical trials. We will expand our clinical and basic science programs to address progress plateaus where new efforts are needed. The number of patients enrolled in our long-term follow-up study will increase. We will also expand our international reach through the creation of St. Jude Global, a concentrated effort to ensure children have access to quality cancer care no matter where they live. And we will incorporate an unprecedented level of comprehensive genomic analysis into the clinical work-up of every child treated.
To mark our profound gratitude for Dr. Pinkel's contributions, St. Jude recently named a nine-story, integrated research center in his honor. The Donald Pinkel, MD, Research Tower houses an array of cutting-edge scientific programs that have helped fuel advancements and will continue to pave the way for new discoveries. It will serve as a constant reminder of our history and our destiny.
Together, we will carry forward Dr. Pinkel's legacy, accelerating progress toward advancing cures for pediatric catastrophic diseases. Finding cures. Saving children. It's our heritage, and it's our future.
By honoring our past and reflecting on our future, we want to share the progress being made at St. Jude and in the field of pediatric medicine.
Today marks the launch of St. Jude Progress, a new blog featuring stories and updates on our scientific research and clinical care. We invite you to subscribe to the blog and learn more about how St. Jude is working to end pediatric diseases — from basic science discovery to advancing quality patient care and survivorship.