Newly accredited Nurse Residency Program boosts confidence and competence among recent nursing school graduates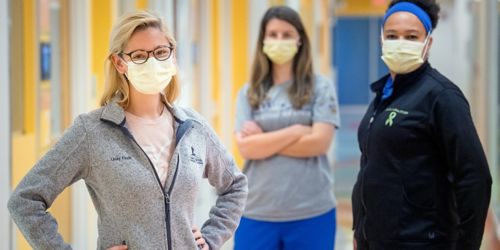 New graduates from nursing bachelor's degree programs account for the highest number of registered nurses available for recruitment in U.S. hospitals. The same population also records the highest number of nurses abandoning their careers, many during their first year.
New nurses experience a high level of stress and dissatisfaction when they cannot connect their undergraduate training with the realities of clinical practice. That is especially true if their professional self-confidence begins to slip.
"Hospitals hire new graduate nurses and expect them to take care of the sickest of the sick, and they may not arrive with all of the required skills," said Samantha Ransone, PhD, RN, director of Nursing Education at St. Jude Children's Research Hospital.

Ransone helped to develop the St. Jude Nurse Residency Program. The program supports newly graduated, registered nurses working in oncology inpatient units as they transition from student to professional. Nursing residency programs throughout the United States are designed to elevate clinical competence, provide emotional support during the transition and boost recruitment and retention.
Nurse orientation before the advent of residencies
Novice nurses were traditionally trained and supervised by nurse preceptors in a role similar to that of the attending physicians who mentor residents after medical school. The structure and transparency of the orientation process varied broadly by institution and even by clinical unit. Since the 1990s, many institutions have established nursing residency programs to standardize and update the practice transition experience.
The St. Jude Nurse Residency Program has onboarded and trained 134 new pediatric oncology nurses since 2013. In October 2020, the program program was accredited by the American Nurses Credentialing Center (ANCC) as a practice transition program.
"Achieving ANCC accreditation for nurse residency is a high achievement and reflects the quality of the residency program to help new nurses start their career on the right note at St. Jude," said Suzette Stone, PhD, MSN, RN, senior director of the Center for Advanced Practice Providers.
Where nursing school ends and quality patient care begins
Schools of nursing prepare their students with a broad knowledge base that applies to a range of patient care settings and career choices. Specialty preparation is not emphasized in most undergraduate programs.
"In nursing school, you may gain a foundational level of pediatric training, but not as much in oncology or hematology," Ransone said, "and you definitely won't have combined training in pediatric oncology. By providing classroom- and simulation-based learning here, we're continually improving the model for taking better and safer care of our patients."
You don't know what you don't know
During monthly, day-long classroom sessions, nurse residents have opportunities to bring up questions or incidents that they experience in their clinical areas.
"You don't know what you don't know," Ransone said. "We provide a safe place to ask the questions and have conversations about events in the clinical areas. If it's your first year—especially if it's your first job, you really don't know the questions that you need to ask until you encounter a situation. In a follow-up session, we might be able to provide extra skill practice or a subject matter expert to present on the topic."
Recruiting top nursing talent with an accredited residency program
Since the ANCC began accrediting practice transition programs, nursing school professors have been encouraging their seniors to include that in their criteria for selecting employers.
"They are being told to look for hospitals with these programs because they're specifically designed to make them more successful at the outset of their careers," Ransone said. "It gives incoming graduates a feeling of confidence knowing that they're going to gain more knowledge and training."