A neuroscientist finds a niche at St. Jude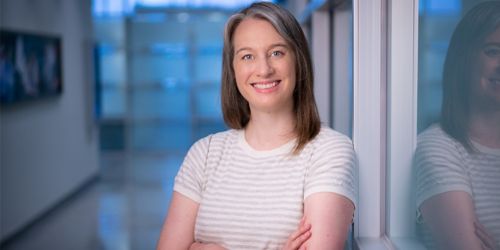 Neuroscientist Lindsay Schwarz, PhD, knew St. Jude Children's Research Hospital as a mecca for pediatric cancer treatment and research. But until joining the St. Jude Department of Neurobiology faculty, she was unfamiliar with the hospital's commitment to basic scientific research. "I have come to deeply admire the hospital's awareness that supporting a broad range of research beyond pediatric oncology is the fastest way to curing childhood cancer," she said.
Read about how her efforts to understand neurons involved in the fight-or-flight response may help colleagues studying brain cancer.
Neuroscience and its role in cancer research
Q: St. Jude Children's Research Hospital is widely known for its role in improving treatment and cure rates for children with cancer. But the campus is also home to groundbreaking basic science research. What is your research focus and what attracted you to the field?
A: I'm interested in neuroscience, specifically figuring out how neurons in the brain are organized to produce many different behaviors and functions. I study neurons that regulate alertness, focus and attention. They also help to control our 'fight-or-flight' response in stressful situations.
If these neurons don't function properly, they may contribute to diseases such as depression and anxiety. They also degenerate in the early stages of Alzheimer's disease, which may contribute to the cognitive decline associated with that disease. I want to identify how the neurons do what they do in healthy brains and figure out what goes wrong in stress-related disorders.
Growing up, I didn't know a person could have a career as a scientist. But in school, I always loved the research process, regardless of the topic. I gravitated toward biology in college, but still didn't understand how to pursue that as a career. When I graduated, I wanted more experience at the bench and a chance to explore my scientific interests. Also, I needed a job! So, I worked as a university lab research technician.
I happened to join a neuroscience lab. Two things quickly became clear: The brain is essential to our health and wellbeing and we still don't know many basic things about it. After two years, I knew I wanted to earn a PhD and lead my own lab. I enrolled in graduate school, and I've been researching topics related to the brain ever since.
Manipulating neurons to study brain cancer
Q: Were you surprised that St. Jude had a place for your field of research?
A: Before coming here, I knew what most other people knew about St. Jude: The hospital was a leader in pediatric cancer research and treatment. Even in my department, which is Developmental Neurobiology, many labs study mechanisms of brain cancer. I wasn't exactly sure how I would fit in, even though everyone was quick to reassure me that I would and was super welcoming.
I've since realized and come to deeply admire the hospital's awareness that supporting a broad range of research beyond pediatric oncology is the fastest way to curing childhood cancer. For instance, my lab focuses on precisely targeting and manipulating neurons in the brain to understand how they influence behaviors. To do that we have made several new molecular tools.
But manipulating brain cells could also be a powerful technique for studying brain cancer. For example, researchers might want to target tumor cells while leaving nearby healthy brain cells intact. The research environment here is creative, diverse and close-knit. That atmosphere fosters new collaborations and research directions. Also, St. Jude provides outstanding research support. That gives us more time for research creativity and innovation.
Neuroscience limitations and further work
Q: Tell us about two recent awards—The NARSAD Young Investigator Award and the NIH Director's New Innovator Award.
A: The NIH Director's New Innovator Award is given to high-risk projects in the early stages of development. These are projects that have the potential to make a significant scientific impact. As I said earlier, it's amazing to me that there are so many things about the brain that we still don't understand. A big reason we still haven't figured them out is limitations in the lab related to the available tools.
My lab studies neurons in the brainstem that make the molecule norepinephrine. These neurons are very hard to target due to their deep location in the brain. The current molecular tools to study these neurons have limited usefulness. I am going to use the NIH award to develop better tools.
The other award is more focused. The NARSAD or National Alliance for Research on Schizophrenia and Depression grant is awarded by the Brain and Behavior Research Foundation, which supports research related to mental illness. We are using the award funding to explore how mis-regulation of norepinephrine neurons affects stress disorders.
Q: What is a typical day for you in the lab?
A: A wonderful perk of the job is that each day is a little different. My favorites are the days when I'm physically in the lab, helping my trainees with something, or performing experiments myself. Being at the bench is my favorite part of being a scientist.
My lab has six members at different levels of training. They include a visiting international college student, a St. Jude graduate student, several postdoctoral fellows and a technician. The overall theme of the lab is understanding how specific neuron populations in the brain influence behavior.
While everyone uses similar laboratory methods, the individual projects are diverse. Each person focuses on their own connection or brain region, and the staff members definitely keep me on my toes. One amazing aspect of being a PI is having a team interested in the same biological questions I am. They all bring unique talents and interests to the lab. They are pushing the research forward much faster than I could by working alone. I try to stay out of their way and make sure that they have everything they need.
Pandemic work-life balance
Q: Since many labs are suspended or doing research remotely, how are you doing your research now?
A: Since COVID-19 hit, things have changed dramatically for my lab. Except for my lab manager, who briefly comes in to take care of essential tasks, we shut down the lab several weeks ago and shifted to working from home. Probably similar to many people, I've had to quickly shift from full-time scientist to full-time caretaker for my 19-month old after his daycare closed several weeks ago. So, work gets done in the minutes that I can patch together throughout the day or when he's asleep. My lab members are working on a variety of things, from writing research proposals to taking online courses for topics that will be useful (like programming) for when we can come back. We keep in touch via a lab slack page or video chats. But these are incredible times, and the top priority is definitely taking care of oneself and each other. Any 'research' that is done is secondary to that.