Sailing uncharted waters: Patient navigator helps patients transition to St. Jude affiliates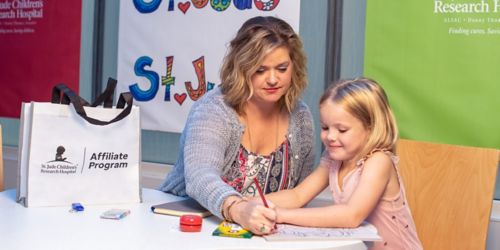 Families often celebrate returning home after their first visit or stay at St. Jude Children's Research Hospital. Many patients visit one of the eight St. Jude regional affiliates for treatment or follow-up care instead of making return trips to Memphis.
But leaving St. Jude can be unsettling for patients and families who are used to the familiar faces and routines. To help alleviate some of those fears, the St. Jude Affiliate Program worked with the hospital's Patient Family Advisory Council to make the transition to affiliate care less daunting.
My role as affiliate patient navigator helps to guide patients through the process. I had been at St. Jude since March 2015 as a guest services liaison in Family, Guest and Volunteer Services. My gifts are best utilized serving and interacting with patients and families. It brings me so much joy to take any burdens I can off their shoulders.
On my first day in this new role in July 2018, I was sitting at my desk for about 10 minutes when a colleague said "OK, we need to start planning your travel."
During my first eight weeks on the job in the Affiliate Program, I traveled to all eight St. Jude affiliates: Baton Rouge, Charlotte, Huntsville, Johnson City, Peoria, Shreveport, Springfield and Tulsa.
Jennifer Morgan, clinical nursing director for the Affiliate Program, and I spent an entire day at each hospital site gathering information about the clinics, programs and staff members. Our questions were specific: How many inpatient beds do you have? How many clinic treatment chairs do you have? What psychosocial resources are available either in clinic or in the community?
We needed those details. The biggest thing we want to do for our families is to ease their fears — we let them know ahead of time exactly what they'll see and what the facility and staff are like.
A significant part of my job is managing expectations and providing a bit of clarity. Some things or processes might be different. We explain the partnership between St. Jude and our affiliate clinics and hospitals and how that unique partnership will enhance their overall journey.
We provide families with specific details about each clinic to educate families. During my meetings with families, I share photos of each facility—the entrances, the clinic doors and even where to park. We talk about how to request medication refills, what to do if they accidently receive a bill from somewhere, and most importantly, exactly what to do if their child suffers a medical emergency while at home.
I notify the affiliates after meeting with each family, so affiliate staff can prepare for the upcoming visit. In addition, I also alert any necessary clinicians or team members of information they may need to address for that patient.
It's important to build a rapport so that families feel comfortable asking specific or difficult questions. Once patients return home and visit the affiliate clinics, they receive surveys rating their transition experience. The data is used to measure progress and to enhance the program's efforts.
I also meet with staff members at St. Jude, presenting to clinical groups and departments while also keeping track of patients who potentially could transition back home for part of their care or go home for a visit. After receiving approval to meet with a family, I coordinate my schedule to meet them at their convenience. Many of the meetings take place while patients are getting chemo in the Medicine Room or inpatient rooms, as well as in hospital common areas.
When I started visiting the affiliates, I saw firsthand the passion they have for our patients and families. It's also good to keep in mind that almost 40% of our clinical trial enrollees come from our eight affiliates. That is quite the significant impact on St. Jude's efforts to increase survival rates for our patients and for children suffering from childhood cancer all over the world. It's been an honor to help build this program into something that is impacting our families and helping ease their transition back home.